Pakistan
Shia Muslims stage sit in with the coffin of martyr Mazhar Shirazi in DI Khan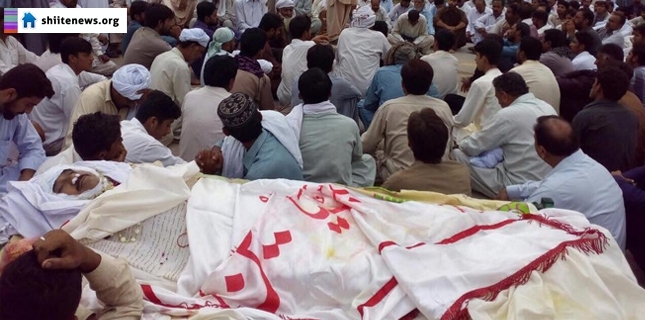 While nation is celebrating the Pakistan Independence Day, Shia Muslims of Dera Ismail Khan have to spend this day by staging a sit-in along with the coffin of martyr Mazhar Shirazi to protest against the targeted murder of a loyal son of Islamic Republic of Pakistan whose founder Mohammad Ali Jinnah was also a Shia Muslim.
Shia Muslims have blocked main road carrying the coffin of martyr Shirazi. They are demanding arrest of the terrorists involved in genocide against Shia Muslims.
Although Pakistani state has banned takfiri terrorist outfits, such banned groups are still freely continuing their activities and are allowed to become legislator by permission of electoral contest. These groups say Jinnah was an infidel and their mainstream groups call the father of the Pakistani nation as deviant. But, they all enjoy all sorts of freedom in entire Pakistan, let alone Dera Ismail Khan or Khyber Pakhtunkhwa province.