Pakistan
Politicians turn down sectarianism at MWM's All-Party Conference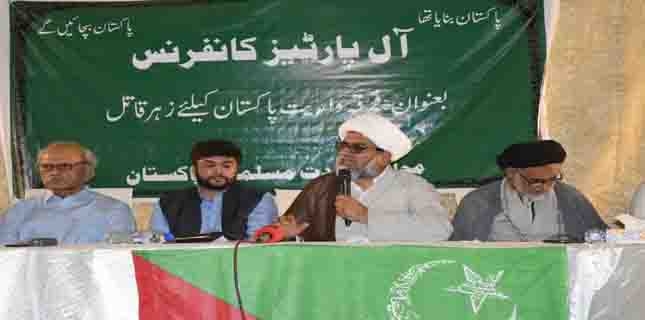 Eminent leaders of various political parties have demonstrated their unity against the menace of sectarianism, extremism and terrorism in Pakistan when they spoke at an All-Party Conference on Sectarianism, Hemlock for Pakistan, held in Karachi under the aegis of Majlis-e-Wahdat-e-Muslimeen, Karachi chapter, yesterday.
Allama Raja Nasir Abbas Jafari who spoke as the main speaker alerted all that Parachinar was the frontline in the war against Daesh (IS) and other takfiri terrorists and if this frontline is weakened, Daesh and other takfiris would infiltrate into Pakistan, hence, he called for making people of Parachinar stronger through their empowerment.
Others who spoke at the APC included: Allama Hassan Zafar Naqvi (MWM), Pakistan People's Party leader Habibuddin Junaidi, Firdous Shamim Naqvi, President PTI Karachi, Jamaat-e-Islami Pakistan's deputy chief Asadullah Bhutto, Syed Qamar Rizvi, MPA Sindh Assembly (MWM), Raza Haroon and Waseem Aftab from Pak Sarzameen Party, Aslam Ghori, Deputy General Secretary of Jamiat Ulema-e-Islam-Fazal, Allama Qazi Ahmed Noorani Siddiqui, President Jamiat Ulema-e-Pakistan Sindh, All Pakistan Sunni Tehreek Chairman, Matloob Awan Qadri, Muhammad Akram of the Pakistan Peoples Movement and others.
Allama Raja Nasir accused the US, Zionists and their allies of fanning sectarianism and terrorist attacks in Pakistan. He said strong central government in Pakistan was needed to root out terrorism. He said that Lashkar-e-Jhangvi supports Daesh as facilitator and also work as its ally in Pakistan and they pose threat to entire Pakistan, let alone Parachinar or other areas on the borders with Afghanistan.
PTI Karachi President Firdous Shamim Naqvi said that sectarianism is hemlock for Pakistan and Islam therefore he urged all to counter and defeat the sectarianism. He said all have to work together to rid Pakistan of this global conspiracy. He said global powers want to eradicate nuclear power by spreading sectarianism in Pakistan.
MQM Pakistan's Member of Sindh Assembly Qamar Abbas said that instead of lip service practical measures should be adopted to defeat sectarianism and other plots of enemies.
He made it clear that some local agents were involved in the conspiracy to spread sectarianism toeing the agenda of evil forces but rest of Pakistan is against sectarianism. He vowed that Pakistani nation would not allow the country become Syria, Iraq or Libya.
Pak Sarzameen Party Raza Haroon said that it was high time to respect belief of each other and promote harmony and cohesion. He said Pakistanis have to understand the world powers' great game against Islam. He said to end sectarian mindset, it must be conveyed to all that all citizens of Pakistan have equal rights whether they belong to any religion and school of thought. He said that Prime Minister did not visit Parachinar after the terrorist blasts that gave negative impression. He said Prime Minister should have pondered upon the consequences of his inaction and callousness.
Asadullah Bhutto of Jamaat-e-Islami congratulated the MWM over uniting all political and religious parties against terrorism in Pakistan.
He said that Parachinar blasts were big tragedy in Pakistan's history. He said it is the responsibility of the government to express solidarity with victims of terrorism so that the conspiracy of the US, Israel, India to spread sectarianism could have been failed.
PPP leader Habibuddin Junaidi said that majority of the local people never became part of the global conspiracy. He said that we are a progressive nation and we must brighten Pakistan through our good deeds.
Qazi Noorani of JUP said that during General Zia's martial law Pakistan was trapped and training centres for terrorists established under US agenda in the name of Jihad, which continues till today. He said that all political leaders should visit Parachinar to express solidarity with the victims of terrorism.
Muhammad Aslam Ghori of JUI-F said that it is important that patriotic political and religious leaders should adopt substantial measures and spread the message of unity. He stressed that they have to identify and remove the black sheep that are present in their ranks.
All Pakistan Sunni Tehreek Chairman, Matloob Awan Qadri said that there is a need that all intellectuals and scholars should counter the conspiracy of sectarianism because their role is important.
Allama Hassan Zafar and Syed Ali Hussain Naqvi of MWM and Pakistan Welfare Party leader Dr Khalid Iqbal also spoke.