Pakistan
Parachinar protest enters sixth day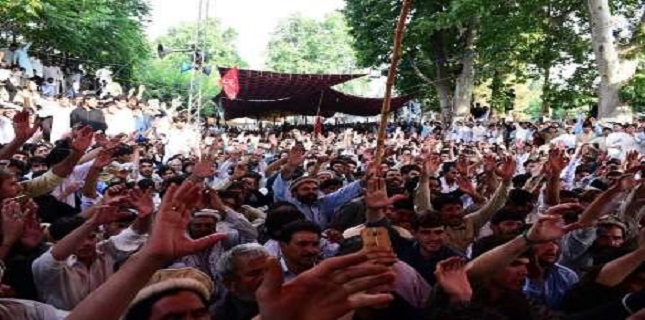 Protests against the twin bombings that killed 75 in Parachinar continued in the city and elsewhere in the country for a sixth consecutive day on Wednesday.
More people from nearby villages joined the sit-in in Parachinar, where protesters dressed in shrouds chanted slogans demanding justice and threatening mass suicide if their call went unheeded. The protests erupted after security personnel opened fire on a rally demanding justice for Parachinar attack victims.
Addressing the protest, the head of the Majlis-e-Wahdatul Muslimeen said he had a detailed meeting with the army chief which had a positive outcome. He added that firing upon protesters had become a serious concern. He warned that the protests would spread throughout the country if justice was not served.
Saad Edhi, the grandson of the late philanthropist Abdul Sattar Edhi, visited the protest camp and announced the opening of an Edhi centre in Parachinar to provide immediate relief to residents of the city in case of an emergency.
He lamented that despite repeated terror attacks and mass casualties, there is lack of facilities in local hospitals due to which they are unable to cope with any emergency-like situation.
"No one in the country could celebrate Eid after the tragedies of Parachinar and Bahawalpur," Saad told the protesters.
In Peshawar, civil society and members of different political parties protested against the killing of innocents in Parachinar. They demanded that the prime minister, army chief and Supreme Court launch a judicial inquiry into the terrorist attacks and mete out strict punishment to the perpetrators.
They criticised political leaders for not visiting Parachinar to condole the heirs of the attack victims and demanded that the leaders immediately join the protest in Islamabad. The protesters also demanded tangible steps to prevent such terrorist attacks in the future.
Protest rallies were also taken out in Lahore, Karachi, Quetta and other major cities of the country.