Pakistan
Pakistan Army Chief warns US against repercussions of unilateral action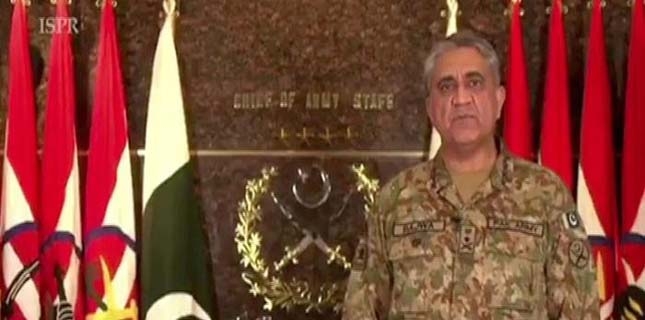 Chief of Army Staff (COAS) Gen Qamar Javed Bajwa on Wednesday said that unilateral actions like drone strikes are counterproductive to the fight against terrorism.
Drone strikes are "counterproductive and against [the] spirit of ongoing cooperation and intelligence sharing being diligently undertaken by Pakistan," he said, according to an Inter-Services Public Relations (ISPR) press release.
During his visit to the Peshawar Corps Headquarters, the army chief said: "Pakistan Army is capable of taking effective measure if actionable intelligence is shared."
On Tuesday, security sources said that a drone strike had killed a commander of the deadly Haqqani network in Khyber Pakhtunkhwa's Hangu district.
Haqqani network leader Abubakar and his partner were killed when a drone fired two missiles at his house in Speen Tal area of Hangu on Monday night.
The drone strike "completely destroyed" the suspected militant's house, security sources said at the time.
The drone attack came days after Afghan security officials accused the Haqqani network and Pakistan's Inter-Services Intelligence of being behind the suicide truck bombing in Kabul on May 31 that killed at least 150 people. The allegation was strongly rejected by the Pakistan government at all levels.
Gen Bajwa also said that the early mainstreaming of Fata is crucial for achieving "enduring peace and stability".
"Our focus now is to transform our operational achievements in Fata into enduring peace and stability for which early mainstreaming of Fata through reforms is essential and Pakistan Army fully supports all efforts towards that end," the ISPR statement read.
"Our brave tribal brothers ─ through their support, cooperation and resolve ─ have enabled its security forces to succeed during the operations and now it is time for them to live a fearless and quality social life as citizens of Pakistan," said Gen Bajwa.
Stressing the importance of peaceful relations between Pakistan and Afghanistan, the army chief said, "We consider Afghanistan as a brotherly neighbour and terrorists are our common enemy. The threat thus requires a trust based coordinated response rather than blame game or unwarranted skirmishes."
At the same time, the COAS expressed his satisfaction on operational readiness of the formations and appreciated the improved security situation and measures for better border management, including fencing, the statement read.
The COAS also said that the Pakistan Army would continue its efforts to consolidate gains achieved thus far and that it stands with all other institutions to get rid of menaces which have been hindering Pakistan's progress and prosperity.