Pakistan
NACTA says proscribed terrorist outfit ASWJ operating in rural Sindh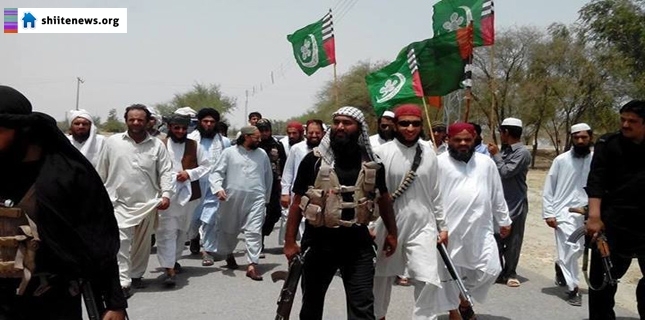 Expressing its concerns over a rise in the activities of proscribed Deobandi terrorist outfit Ahle Sunnat Wal Jamaat (ASWJ) aka Sipah-e-Sahaba (mother organistion of Lashkar-e-Jhangvi) in rural parts of Sindh, the National Counter Terrorism Authority (Nacta) has informed the provincial government that the sectarian group has been operating under new aliases.
Nacta, a federal counterterrorism body, in a letter recently sent to Sindh's Home Department, said the ASWJ, which formerly operated as Sipah-e-Sahaba Pakistan before being banned, has been continuing its activities in rural parts of the province under a new name – the Sunni Rabita Committee –, retaining its objective, manifesto, flag and the leadership.
The counterterrorism body has shown its concerns over the increase in the sectarian group's activities under the banner of the SRC in Qambar Shahdadkot and Sujawal districts.
The ASWJ vice president in Sindh, Maulvi Manzoor Ahmed Solangi, has been heading the SRC in the Qambar Shahdadkot district, while Hafiz Muhammad Riaz Memon, Ashraf Memon and Ilyas Farooqi are the organisers of the group in the Sujawal district, according to the Nacta letter.
Nacta has also recommended the Sindh home secretary to sensitise staffers of the departments concerned about the phenomenon of the renaming of groups which are either banned or under observation in compliance with the National Action Plan, whose seventh point is clearly aimed at "ensuring against re-emergence of the proscribed organsiations".
During the Pervez Musharaf government in 2002, the federal interior ministry had imposed a ban on the SSP, alleging that the group had been involved in subversive activities. It re-emerged as the Millat-e-Islamia Pakistan, but in 2007 it was also disbanded. However, the group came back with the ASWJ name. Though the ASWJ too was banned in February 2012, it continued to carry out its activities across the country, flouting the ban.
Sources within the ASWJ said that the group used the banner of the Sunni Action Committee for staging protests and rallies and Nacta has misconstrued it as the SRC.
At the electoral front, the ASWJ used 'Pakistan Rah-e-Haq Party (PRHP)', a political party registered with the Election Commission of Pakistan, which won a number of seats, including those of two union committee chairmen, in the local government polls held in December 2015.
Officials in law enforcement agencies, commenting on the Nacta letter, said that it was the federal government that would decide firmly what action could be taken against the outfit. "Legally, the ASWJ is a proscribed outfit, but on the ground it is arranging rallies and taking part in the elections," said a senior law enforcement official, who requested anonymity to speak freely.