Pakistan
MWM Balochistan demands suspension of DSP, SHO for Quetta killings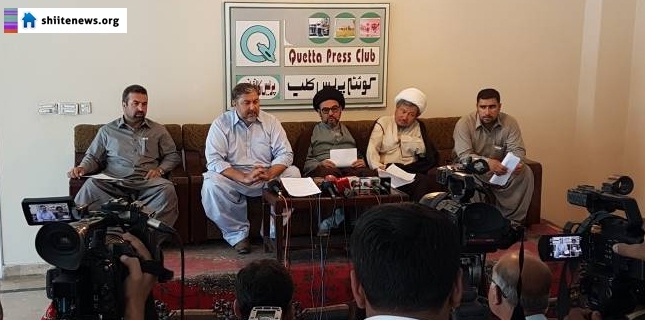 Majlis-e-Wahdat-e-Muslimeen Balochistan chapter leaders have condemned the callousness of the PMLN government at the Centre and in the province towards killings of innocent Shia Muslims in Quetta.
Condemning the targeted murders of Shia Hazara sister and brother on Spinney Road Quetta, MWM office bearers demanded that DSP and SHO of relevant police station should be suspended for their failure to secure life of citizens.
Allama Hashim Moosavi, Agha Syed Raza, Member of Balochistan Assembly, and other Quetta-based office bearers of MWM made this demand at a joint press conference at Quetta Press Club.
They asked media to convey to the government the message of leading Shia party representatives that they must feel ashamed for their double standard that they condemned killings in UK and the US but they remained silent on the cold blooded murders of two innocent sister and brother in Quetta.
They also denounced the Balochistan parties and leaders for their criminal silence over the double murder in Quetta. They lamented that none of them even bothered to attend the mourning congregation of the Shia martyrs. They said that these leaders should have expressed sympathy with the heirs of the martyrs but it seems that they are scared of the takfiri terrorists.
They said it was good that the kidnappers of Chinese citizens were zeroed in and eliminated but they asked why such operation is not conducted in Quetta city where same terrorist groups murdered innocent Shia Muslims. They said that government and security agencies have failed to provide security to Shia Muslims.