Pakistan
Allama Wahidi meets Allama Raja Nasir to woo MWM support for SUC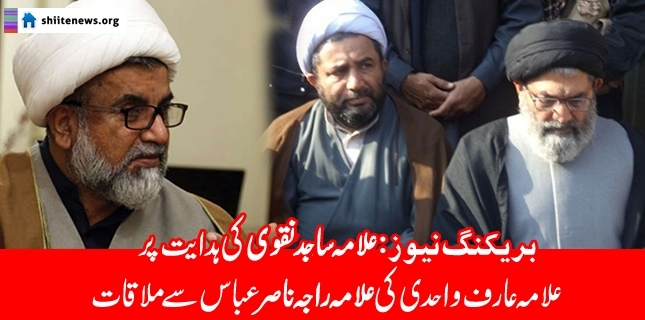 Shia Ulema Council Secretary General Allama Arif Wahidi has called on Allama Raja Nasir Abbas Jafari, chief of Majlis-e-Wahdat-e-Muslimeen to seek his party's support to the SUC contestant in the by-election to legislative assembly of Gilgit-Baltistan from Gilgit-Nagar constituency. Wahidi met him on the directive of his party's chief Allama Syed Sajid Ali Naqvi.
Sources said that the meeting was held in a friendly environment and Allama Raja Nasir Abbas assured Allama Wahidi that his party would take practical step to strengthen unity of the community.
Reports had it that SUC contestant faces PPP contender and MWM too has not withdrawn its contestant while PPP also has tried its best to win the support of MWM in his favour.
Allama Raja Nasir always stressed on unity among Shia Muslims, their leaders and parties. It is hoped that he would take a big step in right direction.
In the past, MWM had withdrawn its candidate in favour of SUC candidate in the by-election to Sindh Assembly from one of the Karachi seats.