Pakistan
Imam Mehdi Conference will be a historic show of public support: Allama Nasir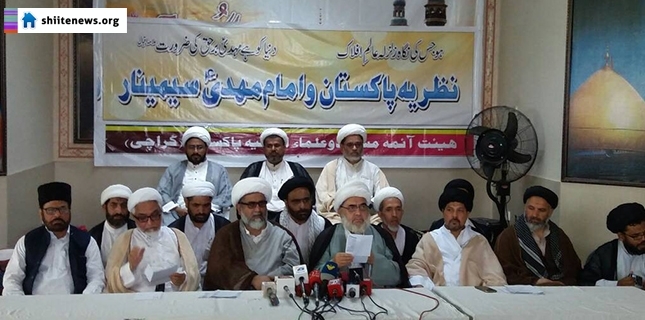 Allama Raja Nasir Abbas Jafari, secretary general of Majlis-e-Wahdat-e-Muslimeen, has said that MWM's 'Stability of Pakistan and Imam Mehdi Conference' will be a historic show of public support to the Mehdvi ideology in Pakistan.
He expressed these views speaking at a joint press conference together with the office bearers of Haiyat Aimma Masajid and Jafaria Alliance.
Allama Jafari also lashed out at the powers that be over enforced disappearance of innocent Shia Muslims. He said that Shia scholars, notables and active youths were taken into illegal custody and no law enforcement agency has so far declared their arrests. He asked if this is rule of law that innocent citizens of Pakistan were illegally arrested and not being allowed to have access to defence lawyers and even their families were not being allowed to meet them.
He said that Imam Mehdi Conference will be held in Nishtar Park Karachi on May 21 where MWM leadership would announce its course of action against the illegal arrests of innocent Shia Muslims and against the government inaction against terrorism.
Allama Shaikh Hassan Salahuddin and former Senator Abbas Kumaili also spoke. They said that only united Muslim Ummah can defeat enemies of Islam and Muslims and sectarian Saudi military alliance was formed to serve the interests of enemies of Islam and to divide Muslims. They opposed Pakistan in the alliance.
They demanded that Pakistan government must remain neutral and should part ways with the Saudi sectarian alliance.