Pakistan
Over 20 killed, deputy chairman Senate injured in Mastung blast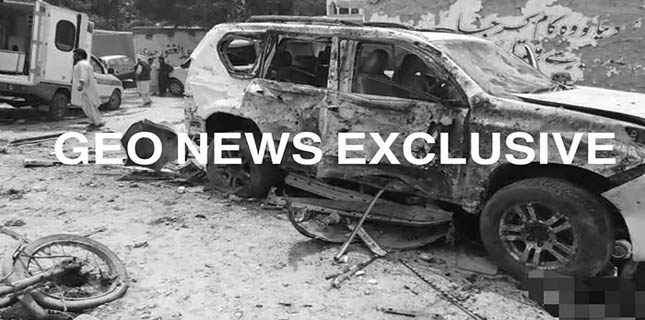 At least 20 people were killed and many others including Deputy Senate Chairman Abdul Ghafoor Hyderi, a Deobandi cleric as his convoy came under attack in Mastung area of Quetta on Friday. It seems that Deobandi terrorists now don't spare the pro-government Deobandi clerics and target them without any hesitation.
The motorcade of Deobandi party JUI-F's leader was passing by a mosque shortly after Friday prayers when his convoy was attacked. DPO Mastung Ghazanfar Ali said initial reports suggested it was a suicide attack.
"A suspect suicide bomber hit Ghafoor Haideri's car," the DPO added. However, according to reports, the JUI-F leader was not sitting in his own car.
Maulana Ghafoor only suffered minor injuries in the attack as he was not sitting in his own car which was the target of the attack, he added.
Speaking to the media shortly after the attack, Deobandi cleric said, "The blast was extremely powerful."
Levies officials have cordoned off the area and a search operation has started. Meanwhile emergency has been declared at Mastung Civil Hospital. The blast also damaged a number of vehicles parked on the road causing panic in the area.
Taking notice of the incident, Balochistan Chief Minister Nawab Sanaullah Zehri directed concerned authorities to submit a detailed report.
Condemning the attack, Interior Minister Chaudhry Nisar demanded a detailed report from FC and Balochistan police.
The PRO of the Civil Hospital Mastung, Malik Jibran told Geo News that over 20 bodies were brought to the hospital.
Maulana Haideri's convoy was targeted in the blast with pictures showing the extent of damage to his vehicle. The deputy chairman was returning from an event at Ittehad Bainul Muslimeen at Jamia Masjid Hammadia when the explosion took place. That means the attackers detest the unity of Muslims (Ittehad bainul Muslimeen).
The blast was very powerful, said Haideri, adding that though he is not seriously hurt, he is deeply saddened by the deaths which had taken place.
Earlier while speaking to Geo News, JUI-F leader Abdul Malik said that Haideri had asked for a bulletproof vehicle which was not provided. Jang correspondent Attaullah reporting from the scene of the incident said bodies were still lying on the ground and security forces were trying to ascertain whether the attack was a suicide attack.
The area has been cordoned off by security forces and investigations are underway.
This is a developing story and will be updated as further details are available. As with breaking news initial reports may sometimes be inaccurate.