Pakistan
'Stability of Pakistan and Imam Mahdi Conference' in Karachi on May 21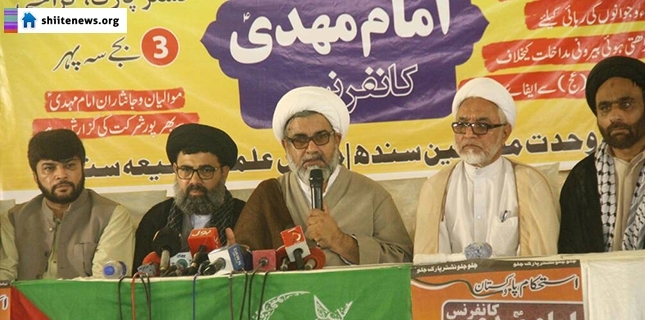 Leading Shia religio-political party Majlis-e-Wahdat-e-Muslimeen (MWM) will hold a public gathering in Karachi on May 21, announced the party's secretary-general Allama Raja Nasir Abba, adding that gathering titled 'Istehkam-e-Pakistan and Imam Mehdi (AS) Conference', will be held at Nishtar Park and will be attended by a large number of people.
He made this announcement at a press conference along with other party leaders including Allama Mirza Yousuf Hussain at the Catholic Club near Numaish Chowrangi. Abbas explained that the conference aims to raise a voice for a better judicial system, implementation of the National Action Plan, missing scholars and youth, economic instability and targeting of the Shia community.
He said the party is inviting every Pakistani to this convention, as it will provide everyone a chance to raise their voice against injustice. Abbas also said that they condemn the fact that former Tehreek-e-Taliban Pakistan spokesperson Ehsanullah Ehsan was being given media coverage and said it is painful for families of victims of terrorism-related incidents, such as the attack on Army Public School, Peshawar, to see him speak freely on television.
He demanded that instead of pardoning such terrorists, the government should try such people for their terrorist activities and make an example of them.
Later, Abbas also spoke about the recent Panama case trial in the Supreme Court, saying there are many corruption cases against the prime minister but who would investigate him. He added that there should be a system in the country in which that even the prime minister will be held accountable for his crimes.
Abbas also said that the way Mashaal Khan was killed by a mob is highly condemnable, adding that scholars should educate the public about the blasphemy law. Only the State has the right to punish people, and nobody else can punish if it is even proven that a person committed blasphemy. He also condemned the attack by the Afghan army in Chaman and said that his party stands with the Pakistan Army.