Pakistan
Seminaries' students to be allowed to join armed forces of Pakistan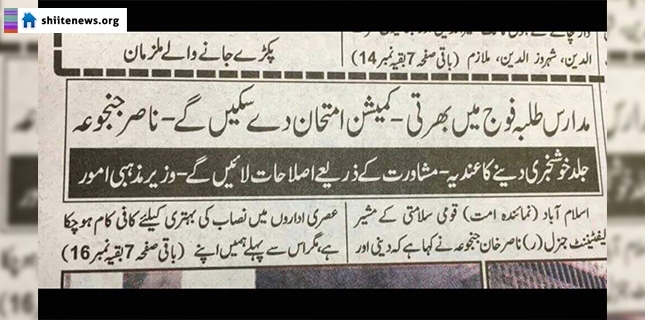 The statement of National security Adviser Nasser Janjua has evoked a debate within Pakistani society that if the powers that be are going to Talibanise the Pakistan Army by opening doors to the pupils of the religious seminaries because the majority believe that these pupils would be from Deobandi seminaries who had always facilitated Taliban after encouraging its creation.
Deobandis' sectarian newspaper Ummat has reported that retired military general Nasser Janjua, nowadays National Security Adviser to the Prime Minister, has said that seminaries have been reformed and now they would be qualified to appear in the commission to the armed forces of Pakistan.
That is being considered by anti-Taliban Pakistanis as a continuation of Talibanisation by other means.