Pakistan
PTI submits resolution against Saudi military alliance in Parliament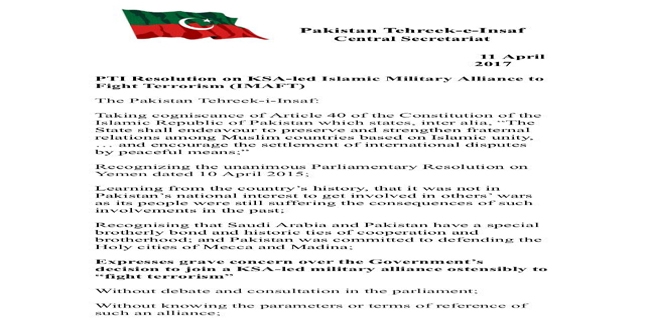 Pakistan Tehreek-e-Insaf (PTI) submitted a resolution in the National Assembly Secretariat against Pakistan's decision to join Saudi-led 41-nation military alliance and appointment of General (retd) Raheel Sharif as its head.
Taking cognizance of Article 40 of the Constitution of the Islamic Republic of Pakistan which states, inter alia, "The State shall endeavour to preserve and strengthen fraternal relations among Muslim countries based on Islamic unity, … and encourage the settlement of international disputes by peaceful means," the resolution read.
"Learning from the country's history, that it was not in Pakistan's national interest to get involved in others' wars as its people were still suffering the consequences of such involvements in the past, PTI expresses grave concern over the government's decision to join the military alliance," it added.
The move, some political analysts believe, apparently suggests PTI is not convinced to give weightage to the apprehensions conveyed recently to PTI chief Imran Khan during his one-on-one meeting with Army chief Gen Qamar Javed Bajwa. It was widely reported that the army chief had requested Khan to soften his otherwise strict stance over the issue and to refrain from creating hype by using the matter for political mileage.
Last week, the PTI chief constituted a committee of four MNAs – Shah Mehmood Qureshi, Shafqat Mehmood, Asad Umar and Dr Shireen Mazari – to look into available parliamentary tools to take up the matter.
"Decision has been taken following consultations between the committee members," said PTI MNA Asad Umar. "The government will be asked to take parliament into confidence."
Pros and cons of the move should be discussed in detail and political parties must be taken into confidence before giving any formal commitment to Saudis, he added.
On March 31, PTI announced to take up the matter in the parliament, however at that time the party was indecisive about bringing a resolution in the house.
Dr Mazari said the April 2015 parliament resolution had urged the government to stay neutral to Riyadh's demands to join its military campaign in Yemen, adding that the development would damage the country's standing and make Pakistan a 'party' to the ongoing Arab conflict.
A senior PTI leader, requesting anonymity, also claimed that during Imran-Bajwa meeting, the PTI chief was assured that the decision would not hurt Pakistan's neutrality, specifically Iran's interest with which Pakistan shares 909 kilometres long completely peaceful border.