Pakistan
Indian FM threatens Pakistan against death sentence to spy Kulbhushan Jadhav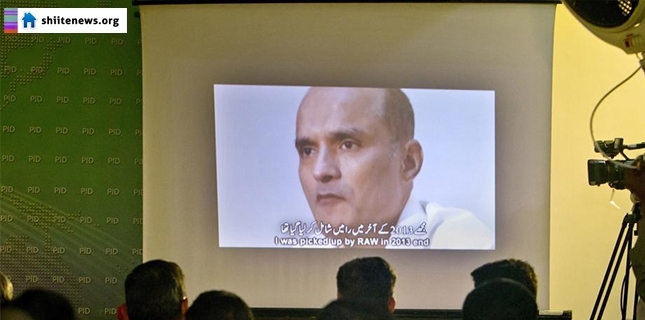 Indian external affairs minister Sushma Swaraj assured Indian Parliament on Tuesday that necessary steps will be taken to provide justice to Indian national Kulbhushan Jadhav, asking Pakistan to consider the adverse impact of its decision that sentenced him to death.
"There is no evidence of any wrongdoing by Kulbhushan Jadhav. This is an act of premeditated murder," Swaraj said in the Rajya Sabha, stressing that the Indian government will leave no stone unturned to save "Hindustan ka beta" Jadhdav, the son of India. But, Pakistan insisted due legal course was followed.
"I would caution the Pakistan government to consider the consequences for our bilateral relationship if they proceed on this matter," she said, pointing out that there was no evidence of any wrongdoing by the alleged spy.
India says Kulbhushan Jadhav's trial by Pakistan farcical, hanging will be 'premeditated murder'
Jadhav was arrested in March last year in the restive Balochistan province and accused of being a Research and Analysis Wing (R&AW) agent, who was fuelling the Baloch separatist movement and attempting to sabotage the $46-billion China-Pakistan Economic Corridor. India denies the charges.
India had on Monday summoned Pakistan high commissioner Abdul Basit and issued a demarche against Pakistani military court for awarding death sentence to Jadhav. The ministry of external affairs (MEA) said the Indian high commission in Islamabad was not even informed about Jadhav's trial in the court.
In Parliament on Tuesday, the government also "strongly condemned" Jadhav's death sentence by a Pakistan military court without providing him consular access.
Home minister Rajnath Singh told the Lok Sabha that Jadhav, a retired officer of the Indian navy, was kidnapped by Pakistan security agencies in March 2016.
Earlier, Shashi Tharoor of the Congress demanded in the Lok Sabha that India should raise the matter at the international level, as Pakistan violated the Geneva convention by denying consular access to Jadhav.
"There are countries who have financed Pakistan. They should be told that if this thing has happened to an Indian national today, it can happen to their national as well. This is a serious matter. We should take it up as world forum as well," Tharoor said.
Anurag Thakur of the BJP demanded that Parliament should adopt a resolution condemning Pakistan. "A message should from this house that Pakistan is a terror nation," he said.