Pakistan
Ordinary Pakistanis and civil society condemn contempt of Shia of Bannu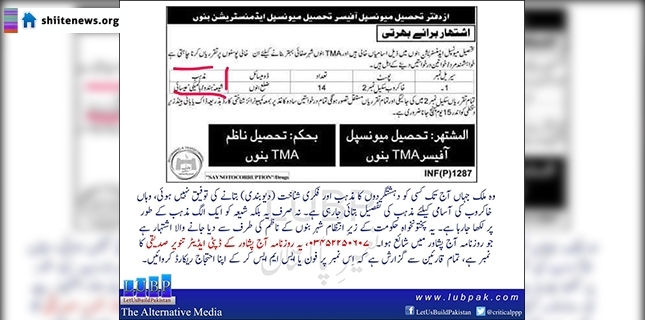 Ordinary Pakistanis and civil society activists have condemned the local government of Bannu tehsil of Khyber Pakhtunkhwa province ruled by the chairman and vice chairman (nazim and naib nazim) belonging to the Saudi-allied PMLN and Deobandi JUIF.
Civil society campaigned against them and lodged their protest. Social media activists also excoriated the biased local government officials. Ordinary Pakistansy expressed their dismay and anger that the co-religionists of the founder of Pakistan Mohammad Ali Jinnah were equated with the non-Muslim minorities. They also condemned the Bannu local government of tehsil for allocating mean jobs for Shia Muslims.
They asked why religions or sect is mentioned for the mean government jobs and why not open merit is announced to fill the positions. Why discriminatory policy has been adopted to fill the vacant positions of sweepers.
Shia Muslims of Pakistan have thanked collective support and protest against the biased policy.