Pakistan
UAE blackmailing Pakistan to drag it into Saudi war on Yemen?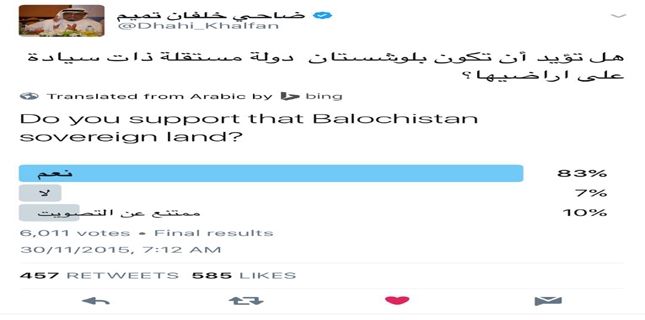 The sheikhdom of United Arab Emirates seems to have begun blackmailing Pakistani state to drag it into the Saudi war on Yemen as its intelligence head Lieutenant General Dhahi Khalfan Tamim has recently led a twitter campaign in favour of separation of Balochistan from Pakistan.
Before that, Pakistan Army chief General Qamar Javed Bajwa visited the UAE where he met Crown Prince Sheikh Mohamed Bin Zayd and discussed issued of bilateral interest.
But, Egyptian newspaper Sout Misr al Hurrah reported that in the February 26 (2017) meeting, they agreed that Pakistan Army's 1500 troops would join Saudi-led coalition in their unilateral war against Yemen but Pakistani troops would serve under UAE command.
The paper claimed that each personnel would be paid monthly salary amounting to US$ 10,000. Apart from that, 2000 more Pakistanis will be issued work permit.
These two developments have given birth to doubts among Pakistanis because Pakistan's parliament has opposed Pakistan's entry into any conflict and called for neutrality in Yemen war and other conflicts.