Pakistan
PPP councillor among 5 facilitators arrested for Sehwan suicide bombing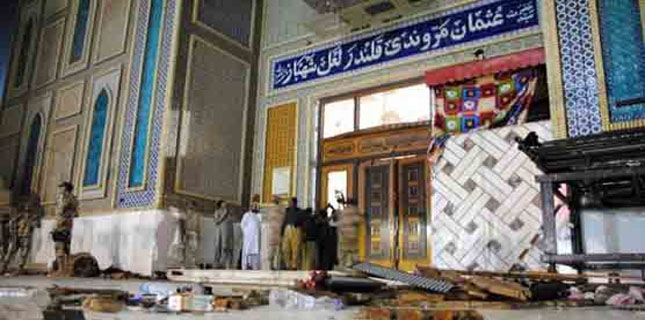 The network of Lashkar-e-Jhangvi/Daesh terrorist Hafeez Brohi has emerged to be responsible for suicide bombing at the holy shrine of Hazrat Lal Shahbaz Qalandar in Sehwan Sharif but a PPP's district councillor Munir Jamali is also said to be among the facilitators arrested by police.
The News reported yesterday that a political party member among three facilitators of the Sehwan Sharif suicide bomb blast incident have been arrested by the Counter-Terrorism Department of Sindh Police and Intelligence agencies. Dunya News reported 5 facilitators have so far been arrested.
Sources in law-enforcing agencies informed The News that though many arrests have been made in connection with the Sehwan incident but the three suspects picked up from Khairpur, Johi district, Dadu, and Hyderabad conveyed useful information regarding the gory incident at the shrine of Lal Shahbaz Qalandar in which nearly 88 people were martyred and some 250 people injured.
Sources added that these three provided facilities to handlers and suicide bombers. Sources further added that the mastermind of the tragic incident of Sehwan is Hafeez Pindrani Brohi, a resident of Khanpur district Shikarpur, who was also wanted in a series of many suicide attacks in interior Sindh mainly in Shikarpur and adjacent Jacobabad district. Hafeez was once an active leader of Lashkar-e-Jhangvi and now associated with ISIS.
Sources said a person arrested from Hyderabad is a close relative of Hafeez Pindrani who disclosed that there were three suicide bombers along with handlers of the Sehwan blast and they stayed in Hyderabad for many days at his house before leaving for Sehwan Sharif, while Munir Jangwani Jamali arrested from Johi district, Dadu, is allegedly a smuggler of Iranian oil and involved in many criminal activities in Sindh and Balochistan including 'bhatta' collection from oil and gas companies working in the Dadu district. Munir Jamali is also associated with a political party and elected district council member for District Council, Dadu.