Pakistan
Senior police officers among 11 killed as Takfiri Deobandi suicide bomber strikes Lahore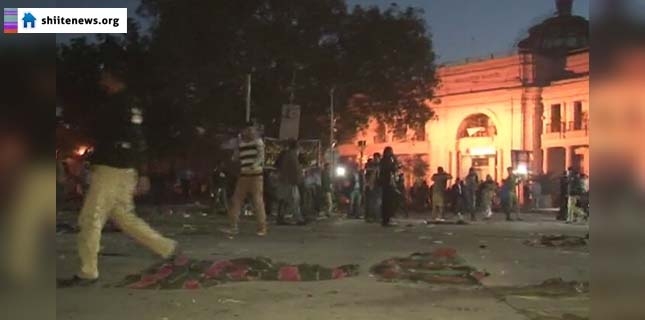 Senior police officers among 11 killed as Takfiri Deobandi suicide bomber strikes Lahore
Shiite News: At least 11 people were killed and 69 injured on Monday when a suicide bomber struck outside the Punjab Assembly in Lahore during a protest, police officials said.
Rescue 1122 confirmed that 69 people were injured in the attack, with most of the casualties shifted to Mayo Hospital and Ganga Ram Hospital.
The Takfiri Deobandi Jamat-ul-Ahrar faction of the banned Takfiri Deobandi Tehreek-i-Taliban Pakistan (TTP) claimed responsibility for the attack.
"The suicide attacker was on foot," said Counter Terrorism Department (CTD) Chief Dr Mohammad Iqbal.
SSP Zahid Gondal of Punjab Police and DIG Traffic Lahore Capt (retd) Ahmad Mobin were killed in the attack.
Hours earlier, DIG Mobin had been seen on television, mediating with the protesters gathered at the site.
Mobin was reportedly negotiating with protesters for an end to the strike and for them to clear the area.
A large group of chemists and pharmaceutical manufacturers had gathered in front of the provincial assembly to protest a government crackdown against the sale of illegal drugs. There was a significant presence of law enforcers in the area while the protest was ongoing.