Pakistan
Allama Raja Nasir meets interior minister on missing Shias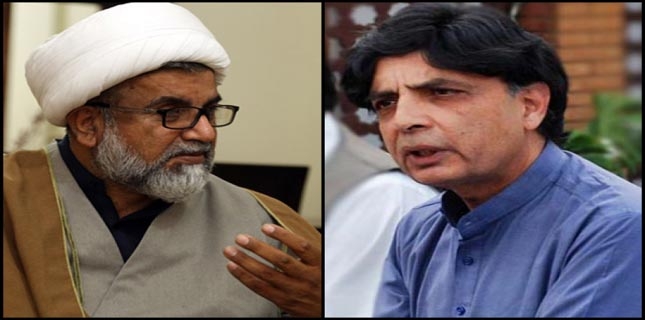 A high-level delegation led by Majlis-e-Wahdat-e-Muslimeen's secretary general Allama Raja Nasir Abbas Jafari called on Chaudhry Nisar Ali Khan, federal interior minister yesterday and apprised him of Shia Muslims anger over illegal and undeclared arrest of Shia Muslims, restrictions on Shia pilgrims on Taftan border with Iran and terrorist attacks on Shiites in Parachinar and other areas.
Allama Raja Nasir informed him that innocent Shia Muslims including religious scholars and law-abiding youths were being harassed through misuse of National Action Plan that should have been focused on those takfiri terrorists who massacred civilians and security officials across Pakistan.
He asked the minister to ensure that either they must be freed forthwith or be produced in the court for trial if there was any case against them.
He said that Shia Muslims of Parachinar were patriot Pakistanis and they were being harassed despite the fact that they had been prime victims of terrorist attacks. He also apprised him of plights of Shiites of Hangu, Kohat and Dera Ismail Khan. He also complained regarding the difficulties being suffered by the Shia pilgrims on Taftan border.
MWM's official website claims that interior minister assured the delegation of immediate breakthrough on the said problems.
The MWM delegation led by Allama Raja Nasir comprised of MWM's office bearers Allama Mubarak Mousavi, Nasir Shirazi, Asad Abbas Naqvi, Iqbal Behishti and others.