Pakistan
Night of Martyrs held in Karachi to pay homage to the great Shia martyrs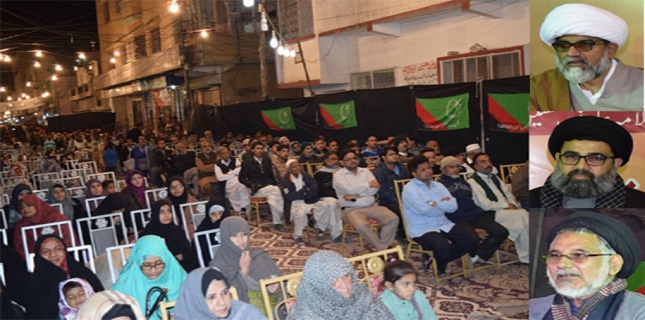 Majlis-e-Wahdat-e-Muslimeen Karachi chapter organized Shab-e-Yad-e-Shohda or Night of Martyrs to commemorate the great Shia martyrs who sacrificed their lives struggling against the takfiri ideology of enemies of Islam and Muslims.
Thousands of supporters of the MWM attended the congregation on Khairul Amal Road Incholi where Allama Raja Nasir Abbas Jafari, Allama Hassan Zafar Naqvi, Allama Ahmed Iqbal Rizvi, Allama Mirza Yousuf Hussain, Allama Nisar Qalandari, Allama Furqan Haider Abidi, Allama Azhar Hussain Naqvi spoke.
They condemned the takfiris and their ideology of hatred and intolerance. They condemned the terrorists and terrorism vowing that they would continue to struggle to defend Islam and Muslims like the great Shia martyrs.
They said that takfiri terrorists were involved in genocide against Shia Muslims and these were takfiris who massacred Sunni Muslim civilians and security officials in all over Pakistan that showed they are enemies of both Sunni and Shia Muslims.
They urged the Pakistan government and state authorities to act upon National Action Plan in letter and spirit and eliminate terrorists altogether.