Pakistan
Civil Society activists protest against disappearances of comrades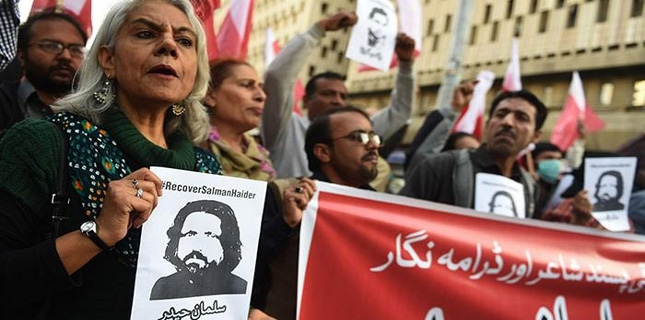 The political workers and civil society members staged a protest outside the National Press Club (NPC) in Islamabad yesterday and demanded early recovery of the missing activists including Professor Salman Haider.
The demonstrators carried placards and raised slogans against the government.
The speakers demanded that all political and humanitarian activists including Salman Haider must be recovered. They also called for implementation of the National Action Plan (NAP) and said that government was answerable for the NAP.
Speaking on the occasion, PPP Senator Farhatullah Babar said it was a cause for concern that all those who raised their voice against atrocities had gone missing.
Hundreds of members of civil society, human rights activists, teachers, professors, students and activists of the PPP also held a demonstration outside Lahore Press Club for safe recovery of the social media activists.
In Karachi, the Awami Workers Party and likeminded groups held a protest demonstration outside the Karachi Press Club.