Pakistan
Pakistan tells UN extremist and terrorist groups propagate their toxic agenda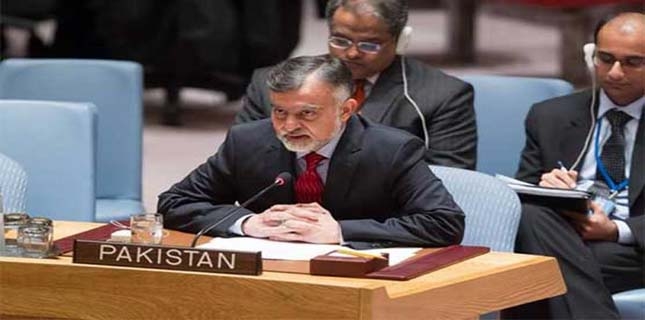 Pakistan called on the international community to strengthen mechanisms and actions for promotion of dialogue and understanding among all religions and civilizations, says a press release received from New York.
Introducing the draft resolution in the UN General Assembly on "Promotion of inter-religious and intercultural dialogue, understanding and cooperation for peace", Pakistan's Acting Permanent Representative, Nabeel Munir said that this should be done with a view to "restoring harmony" and "strengthening cooperation for peace and development"
The resolution introduced by Pakistan and Philippines and co-sponsored by 43 countries was adopted by the UN General Assembly by consensus.
Pakistani envoy said that much of the growing mistrust could be traced to the growing gap in understanding and lack of tolerance among the various religions and civilizations of the world. "Extremist and terrorist groups exploit this gap to propagate their own toxic agenda", he added.
The world today, Munir said, is afflicted with destructive conflicts, both old and new, which are fueled by lingering suspicions and mistrust across the religious and civilizational fault lines.
These conflicts, he said, not only cause immense human suffering and economic loss but also obstruct friendly interaction and socio-economic cooperation among the various regions and nations of the world.
"We also witness a growing trend of xenophobia and religious intolerance and emergence of new extremist ideologies in different parts of the world", he added.
Pakistan appreciated the leading role of UNESCO and the valuable contribution of the UN Alliance of Civilizations in promotion of inter-religious and inter-cultural dialogue at the national, regional and international levels.
Pakistani diplomat said that despite differences, religions and cultures have a lot of commonality that can actually unite us. "We need to build on these shared values".
Pakistan urged the 193-member world body to join hands to eliminate prejudices, biases and stereotypes and engage in a genuine and constructive dialogue at all levels across the cultural and religious divide.
The dialogue, Munir said should be pursued in a structured, multi-layered and all-inclusive format. It should include religious and community leaders, civil society, and academic institutions.
"The ultimate objective from dialogue should be to prevent conflict and promote peace and harmony through better understanding, moderation and a global culture of peace", he added.
Munir expressed Pakistan's belief that with enhanced dialogue and better understanding, it was possible to achieve the objective of a diverse, yet harmonious and peaceful world, standing firmly on the pillars of "peaceful co-existence" and "unity in diversity".