Pakistan
Sindh Chief Minister assures Shia delegates of immediate release of detainees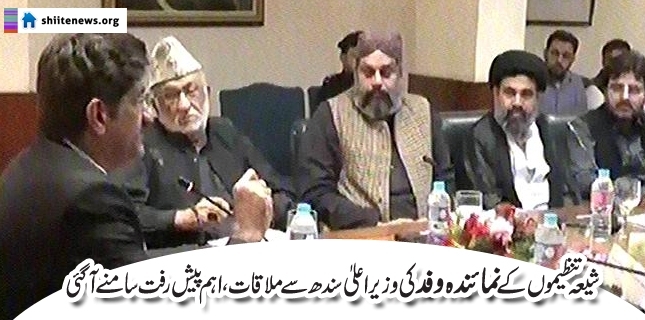 Sindh Chief Minister Syed Murad Ali Shah has assured the Shia delegates on Monday of immediate release of those Shiites who were arrested and detained due to their peaceful protest against the raids on Allama Mirza Yousuf Hussain and Faisal Raza Abidi.
Allama Abbas Kumaili of Jafaria Alliance, Nasir Abbas Shirazi and Allama Ahmed Iqbal of Majlis-e-Wahdat-e-Muslimeen and Allama Nazir Abbas Taqvi of Shia Ulema Council were part of a representative delegation of Shia notables who called on Sindh Chief Minister Murad Shah at his CM House. Sunni Ittehad Council head Sahibzada Hamid Raza also joined Shia delegates to express solidarity with them. They all unanimously demanded immediate release of all the detained Shia Muslims.
Murad Shah assured of the release of all Shiites. For Allama Mirza Yousuf Hussain, he said, he would be released by the court. For former Senator Faisal Raza Abidi, he said that he should produce the license of his weapon then he too would be released.
It is relevant to add here that Taj Hanafi, a ringleader of proscribed ASWJ also involved in criminal activities along with Lyari gangsters, was not jailed despite recovery of arms and hate materials from his possession but he was taken into protective custody that was a sign of surrender of the state authorities before the takfiris due to their Saudi connection.