Pakistan
Anti-Shia witch-hunt by biased security officials evoke countrywide protest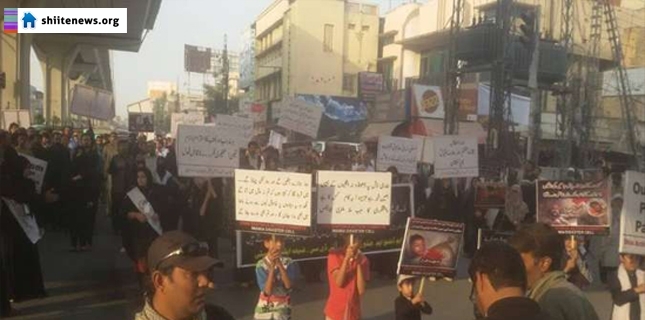 The unjustifiable crackdown on peaceful and patriot Shia Muslims of Pakistan has evoked countrywide reaction as Shiites staged rallies and demonstrations across Pakistan to protest against arrests of many Shia notables and scholars in many part of Punjab and Karachi on Sunday.
Allama Mirza Yousuf Hussain, head of All Pakistan Shia Action Committee was the latest victim of biased security officials who was arrested in a midnight raid on his house in Karachi. A day earlier, former Shia Senator Faisal Raza Abidi was held and being implicated in false cases in Karachi. A Shia businessman and a Shia official of Sunni Muslim's Pakistan Awami Tehreek were already taken into illegal custody and their whereabouts were not made known even to their families. In Punjab, at least five Shia scholars were taken into illegal custody without any charge against them like other detained Shia notables.
This has compelled Shia Muslims to come out of their houses and staged rallies to vent anger on the unjustifiable victimization of Shia Muslims of Pakistan which they concluded was an attempt by the power that be to please Saudi masters.
In Karachi, women came out on Rizvia Chowrangi to lodge protest. Other Shiites staged sit-in at Shahrah-e-Pakistan near Incholi, in front of mausoleum of founder of Pakistan Mohammad Ali Jinnah near Numaish Chowrangi and on National Highway at Malir 15.
Similar rallies were staged in Thatta, Sukkur, Matli, Sujawal and other parts of Sindh province. Demonstrations were also held in Lahore, Islamabad, Rawalpindi, Wah Cantonment, Quetta and Gilgit Baltistan and many other areas of Pakistan.
Demonstrators demanded immediate release of detained Shia Muslim notables and scholars and an end to the victimization policies of the state authorities.