Pakistan
Shia youth M Mehdi alias Shuja under illegal custody for last 16 months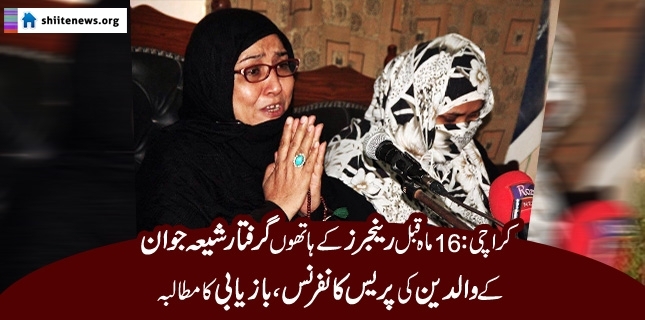 Mother of Mohammad Mehdi alias Shuja has complained that Pakistan Rangers (Sindh) continued to keep his son under illegal detention since last 16 months without producing him in any court of law.
Speaking at a press conference at Karachi Press Club the other day, Shuja's mother also complained that Pakistan Rangers (Sindh) had not allowed his parents, wife and children to meet Mohammad Mehdi alias Shuja.
"Is there jungle law in Pakistan that an innocent Shia youth has been detained for 16 months and he has been denied right to defend himself in the court of law," she asked? Her spouse and daughter in law also accompanied her during the press conference. The family wept while narrating the ordeal.
The mother urged the Chief Justice of Pakistan to take suo motu notice of 16 months long illegal detention of his son. She also urged the President, Prime Minister, Chief of Army Staff, Federal Interior Minister and Sindh Chief Minister and Governor and chief justice of Sindh High Court to ensure immediate release of his son from the illegal custody of Rangers.
She asked them to direct the rangers to free his son or produce him in the court and they must be allowed to meet him and arrange defense lawyer for his son Mohammad Mehdi alias Shuja.