Pakistan
Agha Rahat Hussaini demands restoration of Mohsin Najafi's citizenship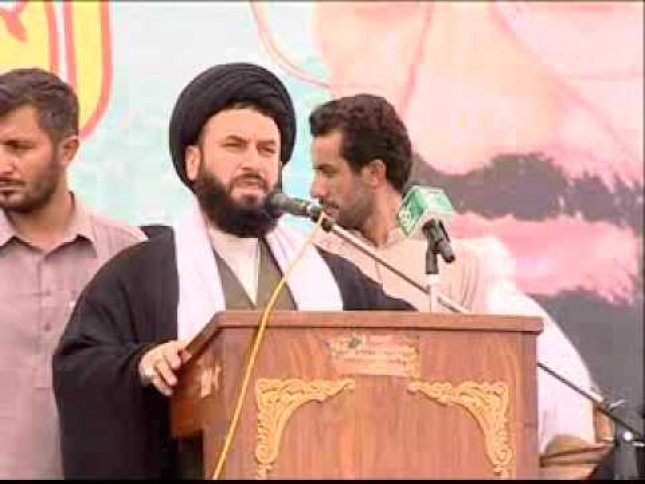 Renowned Shia scholar and Friday prayers leader of Markazi Imamia Jamey Masjid Gilgit Agha Syed Rahat Hussain al Hussaini has lambasted the Pakistan government for cancelling the citizenship of eminent Shia religious scholar Allama Sheikh Mohsin Ali Najafi temporarily and demanded that PMLN government must restore the respectable scholar's citizenship forthwith.
"It seems that government is toeing the line of takfiris and working at the behest of terrorists against the non-controversial pro-peace patriot and senior Pakistani Shia scholars," he said in his reaction to the unjustifiable policy of the government.
Agha Rahat Hussaini demanded that name of senior Shia cleric Allama Sheikh Mohsin Ali Najafi must be excluded from the list of fourth schedulers because fourth schedule was for suspects of terrorism and not for respectable law-abiding citizens of Pakistan.
"Senior religious scholar Sheikh Mohsin Najafi has rendered great services for the cause of humanity, education and rehabilitation of downtrodden people alongside patronizing orphans. He is also known for welfare activities in addition to his educational services," he said declaring the government action against him was a deliberate attempt to compel peaceful Shia Muslims to react befittingly.
He alerted the government to desist from the policy of balance and abandon equating peaceful Pakistani Shia Muslims with the takfiris and terrorists who have imposed a war on Pakistan but whenever action against them becomes unavoidable, government also punish Shia Muslims to please the patrons of the terrorists. He said that National Action Plan should be applied on the terrorists and not on victimization of Shia Muslims and their senior scholars.