Pakistan
Shia Muslims observe "Down with India" Day to condemn belligerence at LoC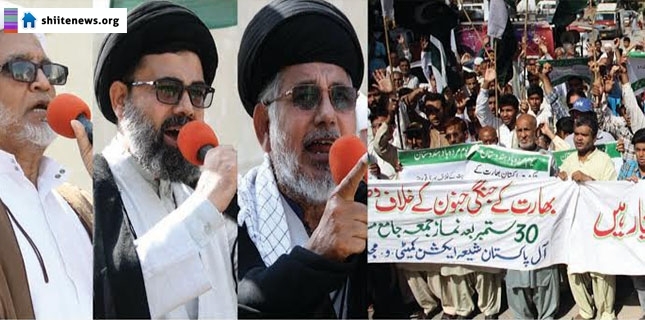 Shia Muslims of Pakistan observe a "Down with India" day on Friday to condemn Indian belligerence at the Line of Control and atrocities in occupied Kashmir.
On a call from Allama Raja Nasir Abbas Jafari, secretary general of Majlis-e-Wahdat-e-Muslimeen, Shia Muslims staged rallies and demonstrations to protest Indian forces brutalities against the oppressed people of Kashmir and its provocative firing at the Line of Control.
In Karachi, more than a dozen protest demonstrations were held. At the main rally outside Jamey Masjid Noor-e-Eeman, Allama Hassan Zafar Naqvi, Allama Mirza Yousuf Hussain and Allama Ahmed Iqbal spoke.
Protestors were carrying banners and placard inscribed with slogans demanding Indian government to respect the Kashmiri people's right of self-determination and peace with Pakistan. They also raised slogans demanding international community to take notice of Indian belligerence.
Supporters of All Pakistan Shia Action Committee of Allama Mirza Yousuf Hussain also joined the protest of the MWM.
The Shia leaders expressed solidarity with people of Kashmir. They paid tributes to those soldiers who sacrificed their lives for the sake of motherland Pakistan. They said Shia Muslims are loyal sons of their motherland Pakistan and they would do their best to defend the country. They said Shia Muslim Mohammad Ali Jinnah is father of Pakistani nation and Shia Muslims who are the pioneers would not leave valiant soldiers of Pakistan alone against any aggression.
.