Pakistan
Shia organizations and notables boycott KP govt for backing proscribed ASWJ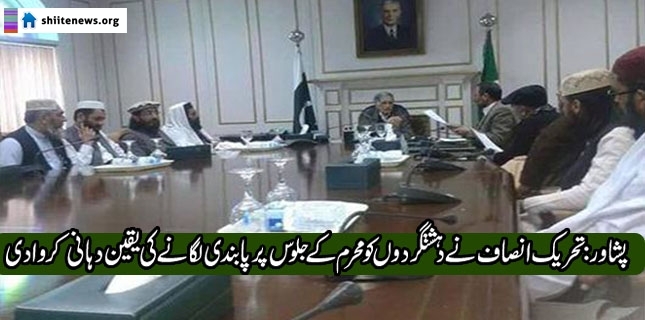 All Shia organizations, custodians of Imam Bargahs and notables have announced boycott of Khyber Pakhtunkhwa administration for inviting proscribed ASWJ terrorists at Moharram-related meetings and bowing to their anti-Shia untrue demands.
Commissioner Peshawar called a meeting where proscribed ASWJ's Peshawar-based thug Ismail Darwesh was invited to speak. ASWJ is renamed version of banned Sipah-e-Sahaba, the mother organization of banned Lashkar-e-Jhangvi.
It is also relevant to add here that Moharram-related meetings are called by administration to take Shia Muslims representatives into confidence on security and cleanliness arrangements for azadari (mourning congregations and processions to commemorate the martyrdom anniversary of Imam Hussain and his companions).
Majlis-e-Wahdat-e-Muslimeen, Shia Ulema Council, Imamia Students Organization and all other Shia anjumans, custodians and notables have condemned the biased and pro-terrorists government and administration. The banned takfiri outfit is seeking to ban Moharram processions and congregations. Shia Muslims are being denied their due rights to please the Saudi-allied takfiri Deobandis despite a ban imposed on them by State of Pakistan itself for their terrorism.
Imran Khan's Pakistan Tehreek-e-Insaf too tilts to takfiri terrorists despite the fact that they massacred innocent children in Army Public School and thousands of Sunni and Shia Muslims and non-Muslim Pakistanis.
Shia Muslims are of the view that proscribed ASWJ is being sponsored by the State of Pakistan against the co-religionists of founder of Pakistan Mohammad Ali Jinnah because of Saudi monarchy pressure. Shia Muslims warned that Pakistani state would itself be held responsible for any violence during Moharram because the state is patronizing banned takfiri terrorists outfit.