Pakistan
Deobandisation of Pakistan: More government jobs for Deobandis in Islamabad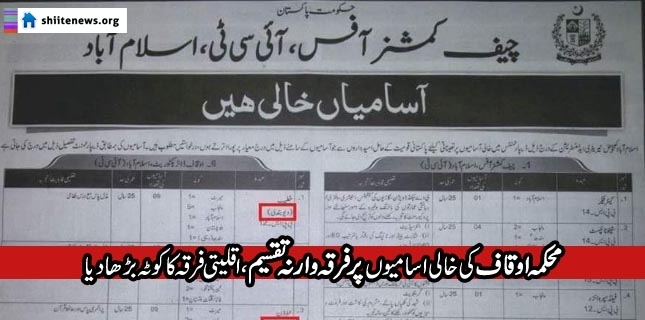 Taking another step in the direction of Deobandisation of Pakistan, government jobs are being offered to Deobandi religious scholars in a department that controls holy shrines of Islamic saints who the Deobandis don't respect like Sunni and Shia Muslims do.
Islamabad Capital Territory (ICT) administration has given an advertisement in newspapers inviting applications for vacant positions in Auqaf directorate as well. In all, 20 posts have been reserved for Deobandis. Among them, nine posts of Khateeb (speaker), nine posts of Moazzin, one post of Khadim (servant) and one post of mudarris.
Demographically, Sunni bralevis makes majority of Sunni Muslims and Shia Muslims are second largest community of Muslims in all over Pakistan. Amazingly, not a single post of khateeb (religious speaker) has been allocated for Shia Muslim scholars. No positions of Khadim and Mudarris have been reserved for Sunni Bralevis and Shia Muslims and they solely go to Deobandis.
Although originally Deobandis are Hanafi Sunnis, many of their scholars were hijacked by Saudi Wahhabis who converted them to Wahhabism and since then they too detest sacred shrines of Islamic saints and also hate those Muslims who visit the shrines for pilgrimage of these shrines. Neither Deobandi respect these Islamic saints nor do any of them go to these shrines for pilgrimage. This practice isolates them from Sunni and Shia Muslims and brings them closer to Wahhabis takfiris, co-religionists of Saudi monarchy and Daesh.
According to Sunni Bralevis (Hanafi) and Shia Muslims, Deobandis cannot be offered any government position in a department where their presence and control will be tantamount to mortify the feelings of Sunni and Shia Muslims alike.
Pakistani nation detest the biased state authorities for their sponsorship of takfiri mindset of Deobandis due to their alliance with Saudi monarchy. Neither Mohammad Ali Jinnah nor Allama Iqbal and eminent pioneers of Pakistan were Deobandis. They demand state authorities to desist from ongoing Deobandisation of Pakistan.
From Taliban to Lashkar-e-Jhangvi, from Sipah-e-Sahaba to ASWJ, all notorious terrorist outfits belong to Wahhabis-allied Deobandis. Why they are being patronised?