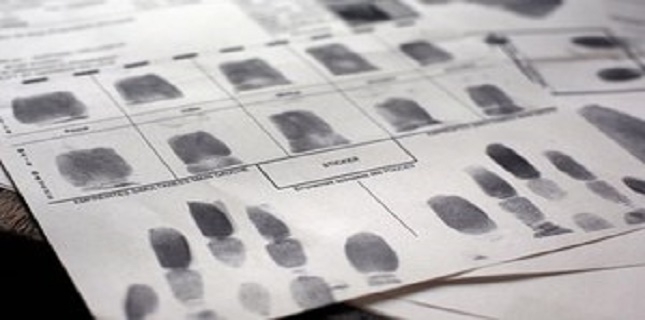 LAHORE: A data compiled by the Punjab police for the first time shows that nearly 225,000 'criminals' operate all over the province, including 55,000 in Lahore.
The statistics pertain to terrorists, dacoits, thieves, burglars, proclaimed offenders, car snatchers, drug peddlers, and those involved in sectarian violence.
While sharing a consolidated data in a meeting chaired by IG at Central Police Office on Tuesday, the police officers said that the figures were collected while compiling fingerprints and palm impression of 100,000 criminals out of 225,000 from all the jails of the province.
Rare data shows 55,000 outlaws operate in Lahore; figures collected thru' fingerprints, palm impressions
The process was under way to bring 125,000 more in the system, the meeting was told. The statistics were gathered at a time when Punjab reported increase in the crime rate in 2016 as compared to last year.
According to the figures obtained from the IG office, a total of 194,552 cases were reported during the first six months in 2015 all over the province which surged to 201,839 in 2016, showing an upward trend in crime rate.
Lahore Crime Record Office (CRO) SP Nadeem Abbas apprised the meeting that the fingerprint matching system had collected fingerprints of 100,000 criminals out of the total 225,000 confined to all jails in Punjab.
He said the record pertained to 2002-16 and the process was under way to register rest of the criminals with the coordination of the district police officers of Punjab.
He said other profile of the criminals was also being obtained that included their face sketch, skin and hair colour, physical appearance and modus operandi.
This detailed information was being collected for the first time since the installation of the Mega Matcher Machine, he said adding that the profile would definitely help police identify, trace and round up the offenders.
Earlier, he said, the record was managed manually and the latest technology was introduced for the first time to update the complete profile of the criminals.
An insider told Dawn that the meeting was apprised that the fingerprint match system was installed at a cost of Rs45 million and the Punjab police were planning to procure another one in order to expedite the process of computerising the crime record.
Lahore Operations DIG Dr Haider Ashraf briefed the IG about a model of police station designed by him having all latest facilities, he said.
Meanwhile, according to a handout pertaining to the same meeting, IG Mushtaq Sukhera directed the officers that 8787 helpline, which was launched for redress of public complaints, could be used as central service with a view to providing justice to the complainants also.
He also reviewed the computerisation of Criminal Record Management System (CRMS) in detail.