Pakistan
Strike will Surely End, Only Once Demands are Met, Islamabad to Witness a Grand PPC: MWM Supremo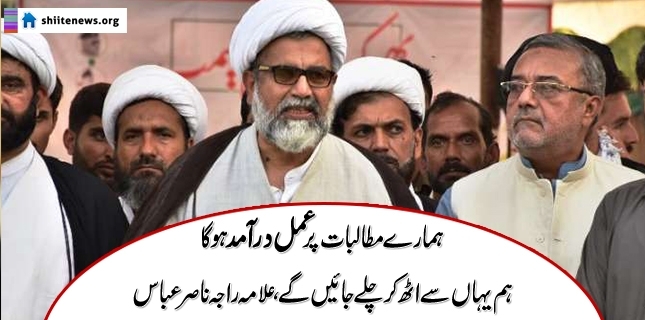 Majlis Wahdat ul Muslimeen (MWM) Pakistan Central Secretary General Allama Raja Nasir Abbas Jafri said the inhumanity recorded today has no parallel in the past, in a press conference from his Hunger Strike Camp Islamabad.
He said that the Islamic world is being deprived of their basic rights. Self-acclaimed developed countries are treating muslims in the most atrocious fashion specially in Kashmir, Yemen, Libya and Iraq. Indian forces are committing heinous crimes over the oppressed muslims in Occupied Kashmir, usurping their right to chose, a violation of international law.
To a question regarding the on-going hunger strike, he replied that our dialogue with the government will bear fruits. We are in the middle of negotiations with Interior Minister Chaudhry Nisar Ali Khan and should our demands are met, we will call of this strike.
While mentioning Khyber Pakhtunkhwa (KPK), he said that most of our demands regarding the province are catered for and work on it is in progress. Demands pertaining to Parachinar, Bannu, Dera Ismail Khan, Kohat and Shah Khail have had a positive note too.
He mentioned his reservations regarding KPK government, alleging lethargy to be the only restraint which is posing a delay to the judicial system in convicting felons on record. Similarly, the decisions made in the KPK Apex Committee have always proved dubious to our nation.
He assured that there is hope in terms of Punjab as their demand will soon be met.
MWM's Supremo Allama Raja Nasir informed the media that on August 7 PPC – 'Protecting (Tahafuz) Pakistan Conference' is being organized to be attended by thousands from across Pakistan.