Pakistan
MWM and Punjab Govt Once Again Couldn't Reach a Consensus, Strike Continues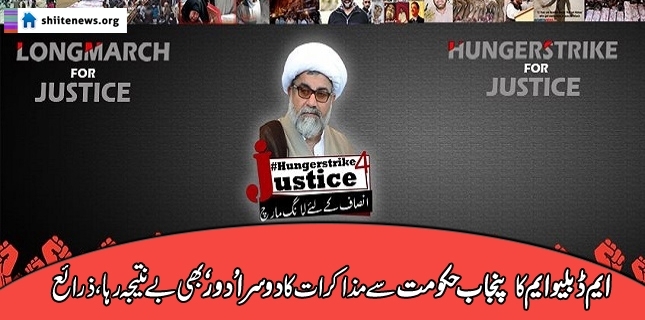 Second round of dialogue underwent between Majlis Wahdat ul Muslimeen (MWM) Pakistan leaders and Punjab Government ended unproductive.
MWM Pakistan secretary general Allama Raja Nasir Abbas Jafri one-to-one meeting with federal interior minister Chaudhry Nisar Ali Khan brought Punjab government officials twice to the table for a dialogue. The talks were not fruitful due MWM's staunch stance.
MWM leader Allama Nasir has been on a two month long hunger strike, which went on deaf ears to the government, one of his demand was to rid Pakistan of terrorists and terrorism both at the hands of militants and State.
Chaudhry Nisar, upon his meeting with Allama Nasir, requested to stop his strike and a relaxation in his demands, which the supremo denied. Nonetheless, Nisar requested a few days to address the issues, resulting in delegation of Punjab government to have come forth twice to negotiate at the hunger strike camp.
The strike continues as dialogues have, so far, reached a deadlock.
Representatives of both parties during the dialogue included MWM representative Maulana Abdul Khaliq Asadi, Syed Nasir Shirazi, Asad Naqvi and Husnain Zaidi; while Punjab government was representative by Rai Tahir, Secretary Interior Punjab Azam Suleman on behalf of CTD, Arif Nawaz from AIG Operations Punjab, Additional Home Secretary Wajahat Hamdani from AIG CTD and others.
The negotiations included several issues, a few that resulted in a deadlock were; repulsion of FIR's against Loud Speaker Act on Azadari-e-Imam Hussain (as) that confined and restrained a number of Clerics and Zakirs in Punjab, restraining order against Allama Gulfam Hashmir and other preachers of Ahlul Bait, Subjugation of innocent youth in the name of National Action Plan and Fourth (iv) Schedule. Despite differences, a few other important demands were reached with consensus.
It is pertinent to mention here that the demands regarding Parachinar and Khyber Pakhtunkhwa have already been addressed and catered for, with work on the governments' part in progress.