Pakistan
July 17: Women are Geared to Block Pakistan on their Leaders' Call, says Khanum Zehra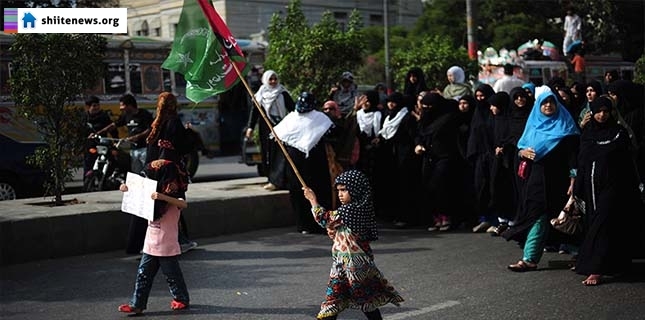 Majlis Wahdat ul Muslimeen (MWM) Women Wing Secretary General Khanum Zehra Naqvi affirmed that on Sunday July 17 women from every city across Pakistan will organize demonstrations against the call of MWM leader Allama Raja Nasir Abbas Jafri. For the same, preparation have been completed in Islamabad, Lahore, Karachi, Quetta, Multan, Dera Ismail Khan, Peshawar, Faisalabad, Azad Kashmir etc. Protesters are geared to block main and important highways going to the cities.
She exclaimed that we stand followers of Zainab (SA) and our voice cannot be subjugated by Taghooti or Pharoahs' forces. We will uplift Hussaini Flag, as its time to unmask the real face of cruel and brutal leaders. This land came into existence due our forefathers' efforts, and today on this very land freedom is denied to us. The government has no reason to stay in power, should they fail to stop target killing of our youth and professionals. We are constraint both at the hands of terrorists and our atrocious government.
She added that our people suffer the hardships of detention in the name of National Action Plan. The government should make it evident, whether this law was made to eradicate terrorism or to take revenge of the Shiite nation. People living in Pakistan have equal rights. The Shiite school of thought will not tolerate any inhumanity or rights violation. It has been more than two months that MWM's leader is on a Hunger Strike against terrorism, yet the governments' arrogance and ignorance is beyond understanding. It is intolerable and appalling that the issues of 50 million Shiites across Pakistan can be ignored to this level.
She stated that we have come out and will continue fighting this attitude of the government till our demands are met.