Pakistan
QWP Leader Sherpao to Raise MWM's Voice at National and Provincial Assembly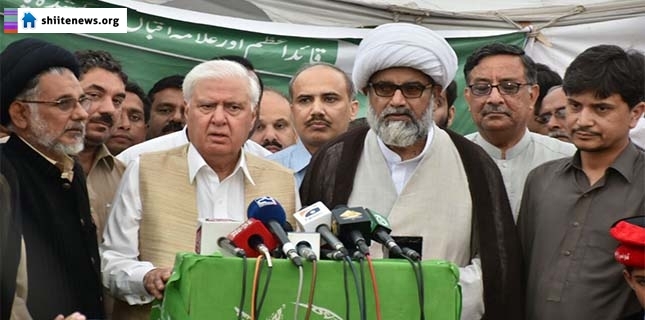 Qaumi Watan Party (QWP) chief and senior politician Aftab Ahmed Khan Sherpao along-with a high profile delegation met Majlis Wahdat ul Muslimeen leader Allama Raja Nasir Abbas Jafri at MWM protest camp, Islamabad, to discuss the current country's turmoil and problems pertaining to Shiite nation.
Allama Raja Nasir Abbas Jafri informed Sherpao of the challenges faced by the community; Shiite nation not only is a victim to terrorism but as well of state oppression; Land is being usurped from Shiites across Gilgit Baltistan whereas Innocent people are targeted in the name of National Action Plan.
Aftab Ahmed Sherpao was grieved of the situation and later the two leaders along with their delegations held a press conference.
During the press conference, Aftab sherpao pledged support to Allama Nasir's protest and demands. He said that targeting literates and professionals of a particular faction is a serious offense.
Demanding judicial inquiry against Parachinar incident, he said that should the government wishes peace in the region immediate action be taken against militancy in Gilgit Baltistan, Punjab and Balochistan.
He warned the federal and provincial governments that if the demands of Shiites across Pakistan are not met he feared anarchy and chaos, resulting in State's unrest.
He promised to raise MWM's voice at both forums of National and Provincial assemblies.
MWM supremo thanked Aftab Sherpao on his arrival and appreciated his promise to address Shiites concerns against oppression in National and Provincial platforms. He announced that MWM women wing will organize a mass protest across Pakistan on July 17. On July 22, should the demands be not addressed; a nationwide protest blocking main highways will be organized. On 7 August, the day of commemorating Shaheed Quaid Arif al-Hussaini's martyrdom, a large gathering will be organized in Islamabad where future decisions will be made.