Pakistan
DG ISPR addresses press conference as Zarb-e-Azb completes two years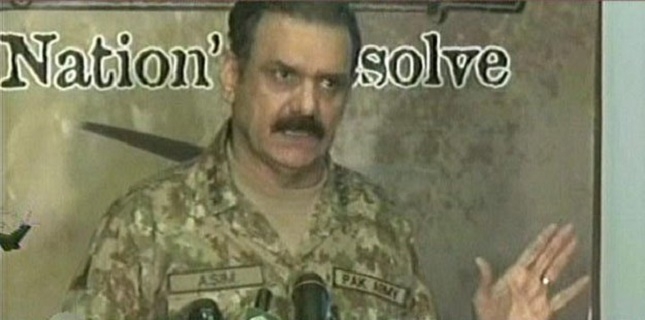 Director General Inter-Service Public Relations Lt-Gen Asim Saleem Bajwa addressed a press conference on Wednesday, marking the second anniversary of operation Zarb-e-Azb.
"June 15 is a historic day for us. Before Zarb-e-Azb, the country, including North Waziristan was plagued with terrorism."
"Over a period of two years, an area of 3,600sq km in North Waziristan has been cleared of terrorists," DG ISPR said.
"This includes 900 terrorists belonging to Lashkar-e-Islam."
"As promised, these operations including the Kinetic operation have been condcuted without any biasness. Shawal has also been cleared of terrorism."'
"Pakistan Army has recovered modern weapons from these terrorists, which they had stolen from American troops," he told the media.
A total of 992 hideouts have been destroyed, the DG ISPR stated.
Two years after the military launched an operation, code-named Zarb-e-Azb, in the tribal areas, Prime Minister Nawaz Sharif said that it has restored peace while the backs of terrorists have been broken.
"Due to this (Zarb-e-Azb), the nation regained peace that was snatched by terrorists and anti-state elements," PM Nawaz said in his message to the nation on the two-year anniversary of the massive operation.
"The back of terrorists has been broken and they will soon become part of the trash of history," he said.
Recalling the decision to go ahead with the operation, PM Nawaz said the whole nation including Pakistan Army and other security institutions played their role with full consistency and determination, which purged the country of the scourge of terrorism.
The premier went on to describe the past two years of Zarb-e-Azb as an "everlasting tale of human determination, courage, fortitude, bravery and sacrifice" which will continue to shine in the pages of our history and would be a source of guidance for the new generation.