Pakistan
Victims of Jacobabad incident stage sit-in because Sindh Government reneged on its promise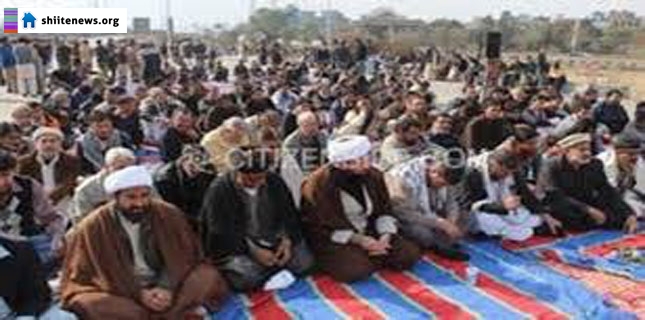 Victims of Jacobabad incident stage sit-in because Sindh Government reneged on its promise
Shiite News: Families of martyrs and injured of Jacobabad incident stage a sit-in because Sindh Government had reneged on its promise. The sit-in has been going on since Monday evening.
According to details, a program was organized yesterday in Jacobabad for distribution of aid cheques among those who were injured during the suicide attack of 9th Muharram but 14 injured were not given the cheques on which all injured people denied accepting aid cheques from Sindh government and demanded that every injured person should be provided with the aid cheque.
Upon breaching the promise by Sindh government, victims staged a sit-in under the leadership of Allama Maqsood Domki in Jacobabad city that is still going on. People present in the sit-in say that the sit-in has been organized due to unwillingness for helping the victims, for not building a monument in remembrance of martyrs and for not initiating an operation against terrorists. They said "Sindh government always promises to fulfill the demands but always renege on its promises. In solidarity with those 14 victims who were not provided with the cheques, we all have denied accepting any help from Sindh government".
Allama Maqsood Domki while addressing the protestors said "Victims of Jacobabad incident have been protesting because Sindh government has not fulfilled its promises and by boycotting the governmental program they have shown distrust on government.
A suicide blast had taken place in a mourning procession in Jacobabad on 9th Muharram ul Haram in which more than 20 people were martyred and around 50 were injured. Sindh government, after the incident, had announced to build a monument in the city, in remembrance of martyrs and also vowed to start an operation against terrorists but it has not fulfilled any of its promises so far. In addition to this, 14 injured people were not given aid cheques in yesterday's program despite the fact that their names were present in the list on which all people denied accepting the cheques and boycotted the program.