Pakistan
Past policies of military, political elite 'caused mess', Ch. Nisar accepts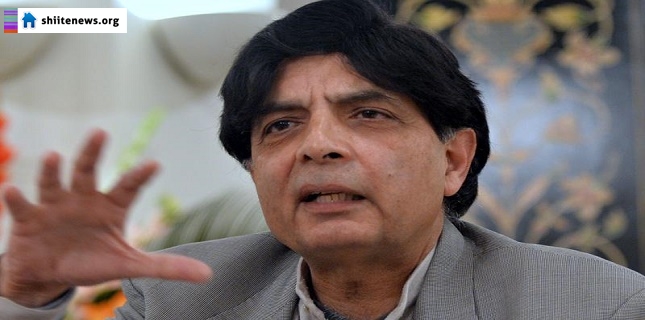 In an impassioned speech in the National Assembly on Friday, Minister for Interior Chaudhry Nisar Ali Khan held the past policies of the military and political elite responsible for bringing the country to a level where it has become difficult to govern.
"We are all responsible for creating this mess in the country, where it is easy to commit bad deeds and people find it difficult to do good things," the minister said while winding up a debate on the performance of his ministry. Even worse, he added, there was no difference between the good and bad in the country.
Chaudhry Nisar cited a number of incidents to substantiate his claim about mis-governance the country had descended into and explained how the present government was trying to clear the deck.
"In a meeting during the previous PPP time, which I attended as a leader of the opposition on national security of the country, the then army chief General Ashfaq Parvez Kayani presented a list of banned organisations present in the country. When I contested the figure based on information which the government had been presenting in the then National Assembly, in response, the army chief said actually there was some miscommunication," the minister said, highlighting the chronic lack of coordination among government departments.
Although the Swat military operation was a great success, its reaction was not managed well; hence "incidents of terrorism hit the roof, as hardly a day passed when terrorists didn't strike in the country".
Claiming that the present civil and military leaders were on the same page, the minister said that despite the launching of a military operation at a much larger scale, the number of acts of terrorism in reaction was much less.
In his speech, Chaudhry Nisar largely focused on bad governance of his civilian predecessors and in some incidents indirectly criticised former president retired Gen Pervez Musharraf for his acts of commission and omission, which added to the country's myriad problems.
Key government institutions dealing with internal security, he said, were used to settle personal scores. For example, he said, the option of exit control list (ECL) was massively misused by successive governments and the number had reached 51,000, which, after extensive sifting, had been brought down to 3,000. "In some cases, infighting among married couples led one of them to use his/her influence to put the other on ECL."
As a result of a gigantic and challenging exercise, he said, and despite pressures from cellular companies, 80 million SIMs were blocked and 110 million customers underwent a verification process.
Another major case on which the minister shed light related to prevalence of illegal means used for transferring of money both coming inside and going out of the country. He said that Altaf Khanani, a well-known money-changer, was arrested but the deliberate weak prosecution led him to go scot-free.
"I was shocked to know a long list of 17,000 individuals who were his customers, including some important personalities. Now we have arrested him again and will take him to task," he said.
Responding to questions about the Joint Intelligence Directorate (JID) under National Counter-Terrorism Authority, he said its building was under construction which would be ready within next couple of months and by then placement of required number of officers with better service structure will be completed. "It will be ready soon."
The interior minister also said Rs48 billion was being spent to raise a new civil armed force to be posted in tribal areas once the army completed the operation there, followed by comprehensive Fata reforms.
About the National Action Plan (NAP), he again clarified that his ministry was only part of it and not running the entire show. However, he said, issues such as handling the banned organisations, monitoring people who were on schedule IV list, madressah reforms, development of counter-narrative and checking terror financing were all being aggressively followed. "I will present in this house a detailed report in its next session."
The minister also discussed how the military operation had been launched after giving peace a chance. He said: "I never mourned the death of Hakeemullah Mehsud, but only decried sabotage of the peace process we initiated by the Americans who killed the Taliban leader in a drone strike."
The minister also explained how he had remained engaged with leaders of various religious parties who were against the military operation to bring them to the government's side once it was decided to go all out against militants.