Pakistan
Detained 20 Shia Azadar's released from Adiyala Jail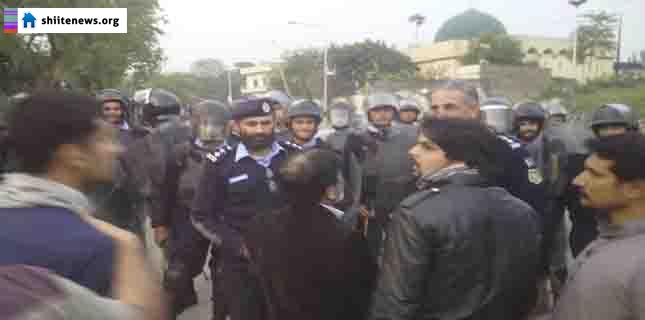 The 20 Detained Azadar's (Mourners) who were arrested by the biased Islamabad Police on 20th Of Muharram from Azadari-e-Imam Hussain (as) procession at G-10 released from the Adiyala Jail on Friday Early Morning.
According to the Shiite News Correspondent, A case was registered with Ramna police against the 20 Azadar's in response to a complaint lodged by Station House Officer (SHO) Inspector Fayaz Ranjah to organize the procession Of Azadari.
The District Magistrate Of Islamabad on Thursday accepted the bail-application of the 20 detained Mourners (Azadar's) and granted them the bail on the case. These mourners were detained by the Islamabad Police on 20th Muharram when they took out the Azadari procession from G-10 Imam Hassan Mosque Islamabad despite the permission granted by the Islamabad High Court.
Approximately 50 people were arrested on Tuesday for taking out a Muharram procession without permission from the district magistrate, in G-10. After four organisers of the procession were arrested, police were deployed outside the house from which the procession was to be taken out but Azadar's took out the procession from the Mosque of the same area which ruthlessly disbursed by the Islamabad Police.
However, mourners attempted to take a procession out from Imam Hussain (as) Mosque G-10 in the area, and clashed with the police. Of the 200 or so participants, 50 were arrested. A similar incident also took place last year.
Its pertaining to mention here that the banned terrorist Outfits usually taken out the rallies and protests in Pakistan's capital islamabad under the protection of the Government of Pakistan and Islamabad Police but the mourning (Azadari) of the grandson of Holy Prophet (pbuh) Imam Hussain (as) was not permitted in the capital of the country which was made by the Shiite Muslim leaders.