Pakistan
Islamabad Police attacked the mourning procession, insulted Alam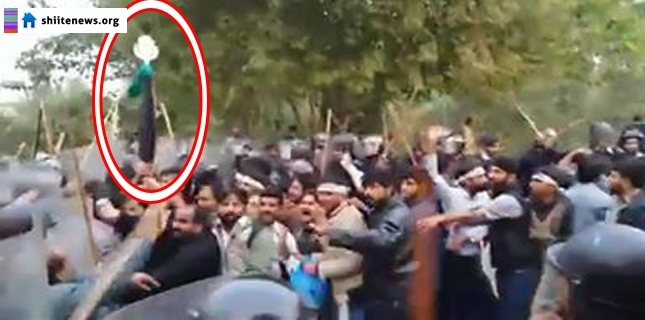 Islamabad Police attacked the mourning procession, insulted Alam
The mourning procession carried out in Islamabad with the permission of court was attacked by the Islamabad police that baton charged the participants and also arrested several mourners. They did not even care of Alam e Mubarak (the sacred flag) during the baton charge over which mourners went extremely angry. On the other hand, devotees of Imam Hussain (as) in the entire country are sad and angry over this biased action of Islamabad police.
According to information, yearly mourning procession is being carried out on 20th Muharram ul Haram from sector G-10 of Islamabad. Last year, notorious terrorists stoned over the procession due to which the government did not allowed to carry out the procession this year. However, the mourners were determined for it and yesterday when the mourning procession in remembrance of Imam Hussain (as) was brought out the police officials besieged mourners and started baton charge and shelling and even arrested many mourners.
The worrying point is that banned organizations, who are the followers of Yazeed, are allowed to organize gatherings and carry out processions in the same city of Islamabad but the mourners of Imam Hussain (as) are not allowed to organize mourning congregations. This proves the biased and prejudiced nature of Muslim League (N)'s government and its adherence to Yazeed.