Pakistan
South Punjab: Big operation to be carried out against sectarian organizations sympathetic to Daesh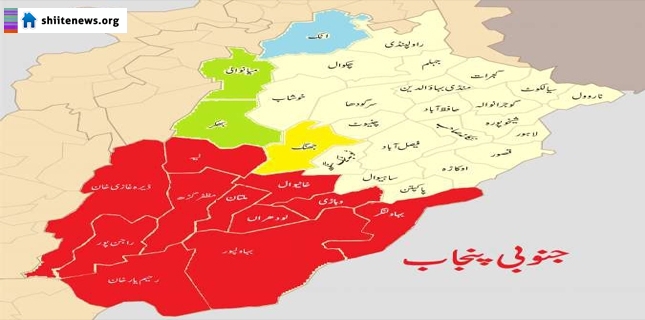 South Punjab: Big operation to be carried out against sectarian organizations sympathetic to Daesh
Federal government, under the National Action plan, has been preparing for conducting a big operation against terrorists, especially against sectarian organizations, in Southern Punjab. A senior government official to media that the decision to spread the operation and to increase its effectiveness was taken in the last month's meeting of most senior civil and army officials. The official, upon the condition of anonymity, did not tell about the details of the operation due to the fact that it could damage the government plan.
The decision for carrying out the operation against sectarian organizations in Southern Punjab was taken after the intelligence reports which stated that the area could become a powerful nursery for groups like Daesh. Raheem Yar Khan, Jhang, Chiniot, Dera Ghazi Khan and Bahawalpur have been considered as hubs of those sectarian organizations that are ideologically fascinated by Daesh. Senior government official said that security agencies have recently arrested dozens of suspected people who were possibly hiring youngsters for Daesh.
Although Pakistan denies the existence of Daesh within its territory but she also accepts that danger and threats of terrorist groups could not be ignored either. Army Chief General Raheel Sharif also talked about the establishment of new terrorist groups and the possibility of Daesh getting hold in the region, during his recent visit to Britain. He said that Pakistan is aware of all such threats and will not allow any new group to emerge in the country.
Sources told that security agencies have identified Southern Punjab could be the area where Daesh will possibly get support and this is the reason that government has decided to take all measures against sectarian groups in the area. Thousands of religious institutions (madaaris) were scrutinized for months with regard to this operation. According to an estimate, around 2 thousand to 7 thousand madaaris are present in South Punjab and it has been thought that most of these madaaris receive funds from Arab countries.
Government has already drafted a policy to ensure the non-involvement of religious institutes (madaaris) in sabotage activities and few madaaris were also closed down in South Punajb, during last few months, because of promoting sectarian hatred and extremism. This operation against sectarian organizations is a big change in Pakistan's policy because action against such groups had been avoided in past.
Killing of banned Laskar e Jhangvi's leade Malik Ishaq during a police encounter also represents the change in government's policy against sectarian groups. Also, the Military courts, for the first time, punished terrorists involved in killing of Shia Muslims. Government official said that further action will be seen, in this regard, in coming weeks.