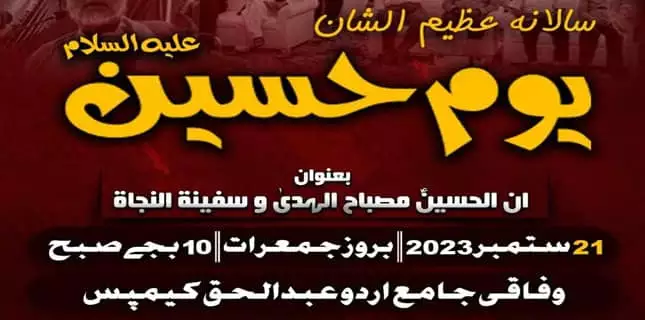 Shiite News: The administration of Urdu University Abdul Haq Campus has again canceled the permit for the annual Hussain Day due to the joint pressure of the People's Party and the state institutions.
It should be remembered that a few days ago, as a result of the pressure on the Urdu University administration by the People's Party, a ban was imposed on the organization of Hussain Day, but later, after negotiations between the ISO delegation and the Vice Chancellor, the Hussain Day was allowed, but now canceled.
Urdu University sources have informed the organizers of Hussain Day to cancel the permit.
On this occasion, the students who organized the Day said that Imam Hussain (AS) is a beacon of guidance for the entire humanity.
We want to inform the party that we know their faces well and will expose their hypocritical character to the public.
The students further said that Asif Zardari and Bilawal Bhutto Zardari should take notice of the presence of Takfiri elements in their party, otherwise, they will bring this Takfiri face of the People's Party to the public in the next election.