Pakistan
Saudi rulers worried about their kindoms not about Kaba, says Alama Qazi Norani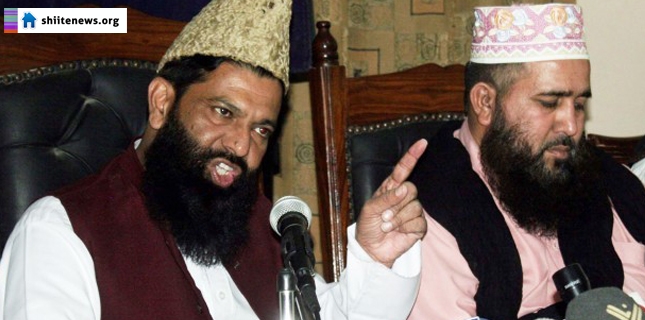 KARACHI – Jamiat Ulema-e-Pakistan (Noorani Group) President Allama Qazi Ahmed Noorani has said that Saudi leaders are more worried about their kingdom than the holy places (Haramain). He was speaking at the religious gathering held at Liaquatabad.
Alama Noorani said that Zionists were hatching the conspiracy in the Gulf region to destabilize Muslim countries. He condemned the Saudi-led aggression against Yemen. He said that Haramain was safe, but Saudi Kingdom was not. Mufti Rafi-ur-Rahmani Noorani said that all takfiri mullahs (clerics) were worried about the dignity of Haramain, but in fact they wanted Riyal from Saudi rulers.
and said that it was against the international law, let alone Islamic laws and principles.
"Airstrikes on Yemen by Decisive Storm War coalition is nothing but unjustifiable military aggression and we condemn Saudi-led war mongering states," said JUP-Ni group's Sindh chapter secretary general Allama Aqeel Anjum Qadri.
Mr. Qadri and Allama Qazi Ahmed Noorani, JUP-Noorani's Karachi chapter president, urged Saudi monarchy to stop this anti-Islam and anti-humanity aggression on Yemeni Arab Muslims and focus on liberation of occupied al-Quds from the illegal occupation of Zionist regime of Israel.
"Entire Muslim world is 100 percent sure that Saudi-led coalition has invaded Yemen at the instigation of United States and Israel because they are declared allies of Zionists-allied U.S. administration since long," said Mr. Qadri.
Commenting on Arab League's anti-Yemen coalition, Sunni religious-political party's officials asked why they had not gone to Gaza to protect defenseless Arab Muslim Palestinians when they were being bombed by Israeli forces. They asked why Saudi-led coalition of Arab's unelected hereditary kings and despotic dictators declared Muslim Brotherhood and her allied-parties as terrorists and dislodged the Sunni Muslim government of Egypt under President Morsi?
They said that U.S.-led pro-Israeli allies always backed monarchs and tyrants in Muslim world to expand their imperialistic influence and dominance and this time again, their pretext is security, stability and democracy. They asked world media why they don't mention that despotic tyrants and dictators and hereditary monarchs of Sheikhdoms have attacked Yemen to prevent the formation of a true and representative democracy under fair and inclusive political system because Houthis and their allies were moving in right direction and U.N. representative mediated between them and Yemen's client president and hand-picked Government under Prime Minister Khalid Bahah had already resigned in January.