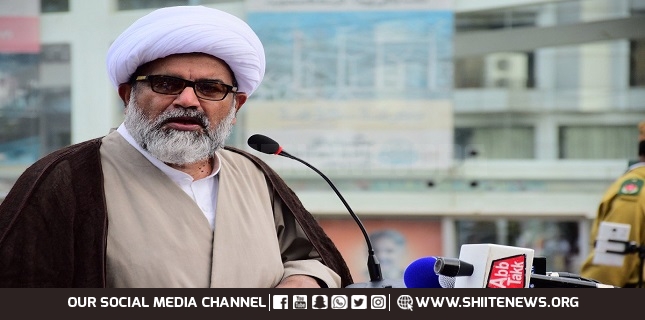 Shiite News: Under the auspices of Jamia Shaheed Allama Arif Hussain Hussaini, the "Istaqbal-e-Muharram-ul-Harram Conference" was held at Qomi Markaz Kacha Pakka Kohat regarding the the 34th anniversary of Shaheed Quaid and arrival of Muharram Haram.
In which Majlis Wahdat Muslimeen Pakistan chief Allama Raja Nasir Abbas Jafari took special part. The program was divided into two sessions.
Allama Khurshid Anwar Jawadi of Jamia Al-Askaria Hangu, Allama Syed Qanoon Hussain, Allama Syed Shuja Hussain Hussaini, Provincial Leader of MWM Allama Syed Waheed Abbas Kazmi, Agha Syed Awan Ali Shah, Allama Nazir Hussain Mutahari, Allama Abid Hussain Shakri also addressed the conference.
A large number of people participated in the conference; the main address of the conference was delivered by Majlis Wahdatul Muslimeen Pakistan Chairman Allama Raja Nasir Abbas Jafari.
He said that Shaheed Quaid Allama Arif Hussain Al Hussaini was the Messiah of the oppressed on the land of Pakistan. He organized the Shian-e-Haider-e-Karrar from Karachi to Khyber, prepared the nation for the protection of their rights.
He clarified important and unforgettable role of the Shia nation in the practical politics of Pakistan, we are trying to fulfill the dreams and aspirations of Shaheed Quaid.
He said that the state should play the role of mother, the process of unjustly adoring a certain group and crushing the Azadaran-e-Imam Hussain A.S should stop now. Any state or institutional obstacle will be unacceptable in the way of Azadari (mourning of Syed Ash-shohada Imam Hussain A.S).
The rulers should announce the immediate withdrawal of all the FIRs registered against the mourners. He further said that the protection of mourning gatherings across the country is the responsibility of the state institutions. The administration should ensure full cooperation with the mourners.