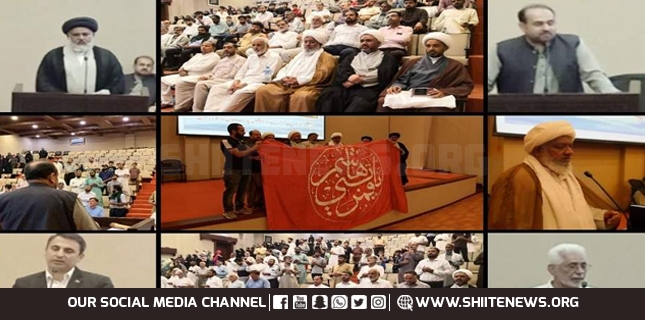 Shiite News: A seminar was organized under the auspices of Imamia Organization Lahore Region on the occasion of the anniversary of Imam Rahil Imam Khomeini and Quaid-e-Shaheed Allama Arif Hussain Al-Husseini at Lahore.
The speakers said that Imam Khomeini brought Iran out of the darkness by taking light from the thoughts of Imam Hussain.
Following the letter of Imam Khomeini, Allama Syed Arif Hussain Hussain spread the same light in Pakistan.
Whether Imam Khomeini or Shaheed Husseini, both aimed at the unity of the Ummah, both were opposed to sectarianism and wanted to see the Ummah in the form of a single Ummah.
Hassan Raza Naqvi, Hasnain Jafar Zaidi, Allama Hassan Raza Hamdani, DG Khaneh Farhang Iran Dr. Jafar Ronas, Maulana Shabir Bukhari, Senior Journalist Nasir Naqvi, Maulana Sajid Raza Najaf Ashraf, Maulana Muhammad Afzal Haidari and others addressed the seminar.