Pakistan
SUC organizes Martyrs Photo Exhibition at Numaish Chowrangi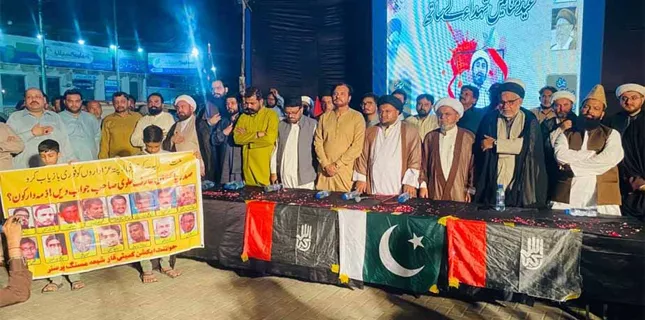 Shiite News: The SUC Pakistan organized a Photo Exhibition at Numaish Chowrangi in the memory of the Martyrs of Pakistan, Palestine, and Kashmir. This event was attended by the leaders of various Political, Religious Parties. In which Central Secretary General of SUC, Allama Shabir Misami, Allama Hasan Zafar Naqvi, Allama Nazir Abbas Taqvi, Jaffer Hussain (PSP), Asadullah Bhutto (Jamat e Islami), Kazi Ahmed Noorani (JUP), Mufti Fazal ur Rehman (JUI), Sabir Abu Maryam (Palestine Foundation), Allama Sadiq Jafferi, Razi Haider Rizvi, S.M. Naqvi, Shams ul Hasan Shamsi, and others were also present. They paid homage to all Martyrs and supplicated for peace and tranquility in eternal life.
On this occasion, Allama Nazir Abbas said that the sacrifices of innocent martyrs will never go in vain. Our nation stands with oppressed Palestinians and Kashmiri Peoples. He ruled out accepting the illegitimate state of Israel at any cost. He accused the international community of playing a criminal role in resolving the Palestinian standoff. He also condemned the silence of UNO, OIC, and the Arab league on aggression against innocent Palestinians and Kashmiris. He said that a few Arab States have invited their downfall by accepting Israel and days of their monarchy have been counted.
Other Leaders said that we will never forget the Martyrs of Pakistan, who sacrificed for peace in our beloved homeland. We are celebrating cherished moments of Eid ul Fitr with the bereaved families of Martyr to please them despite the absence of their beloved departed souls.