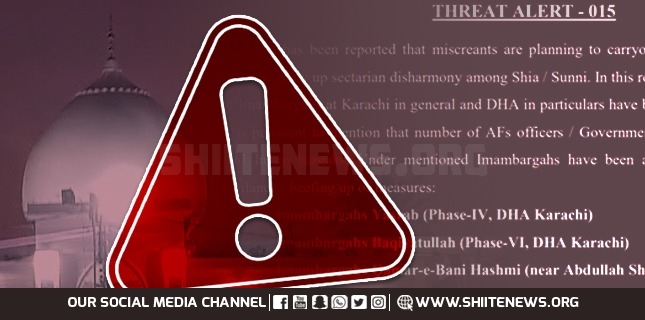 Shiite News: Law Enforcement and Intelligence Agencies have issue a threat alert for prominent Masajid and Imambargahs in Karachi, in which Imambargah Yasrab (DHA), Imambargah Baqiyatullah (DHA), and Imambargah Qamar-e-Bani Hashim (Clifton) are mentioned at high risk.
Said Alert is cited as under.
It has been reported that miscreants are planning to carryout terrorist activities in near future to blow up sectarian disharmony among Shia/Sunni. In this regard recce along with videos of Imambargahs at Karachi in general and DHA in particulars have been carried out for planning. It is pertinent to mention that number of AFs officers/ Government official offer prayer at said Imambargahs. Under mentioned Imambargahs have been assessed, and merit extreme vigilance/ beefing up of measures.
i- Imambargah Yasrab (Phase-IV, DHA Karachi)
ii- Imambargah Baqiyatullah (Phase-VI, DHA Karachi)
iii- Imambargah Qamar-e-Bani Hashim (near Abdullah Shah Ghazi Mazar, Clifton)
It is therefore requested this information merits extreme vigilance, stringent security measures may further be beefed up and also exercised by all level in own are of responsibility, to ward off any untoward situation.