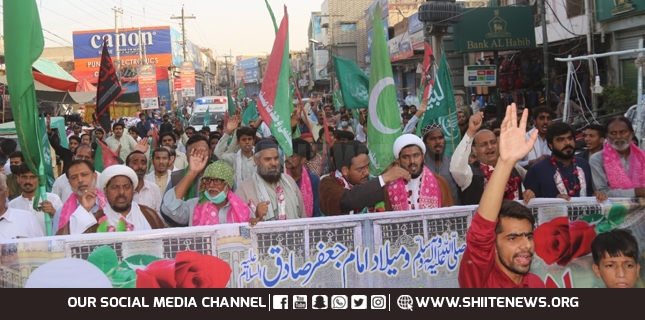 Shiite News: Majlis-e-Wahdat-e-Muslimeen (MWM) South Punjab held an annual "Millad-e-Saqlain" rally from Jama Masjid Al Hussain, Gulshan Market to Ghanta Ghar Chowk via Gulshan Market, Chawk Qazafi, Mausoom Shah Road, and Daulat Gate Hussain Agahi.
The rally was led by Allama Iqtidar Hussain Naqvi while Saleem Abbas Siddiqi, Allama Qazi Nadir Hussain Alvi, Allama Waseem Abbas Mausoomi, Danish Naqvi, Maulana Ameer Hussain Saqi, and others were also present on this occasion.
Speakers of the rally said that Millad-un-Nabi demands Unity among the Muslims. By the grace of Allah, unity among Shia and Sunni unity is the beauty of Pakistan. MWM held 500 reception camps on the occasion of Eid Milad-un-Nabi to welcome the love of the Prophet PBUH. There is no dispute between Shia and Sunni communities. A group of handful Takfiri elements will never succeed to sabotage the peace of beloved Pakistan.