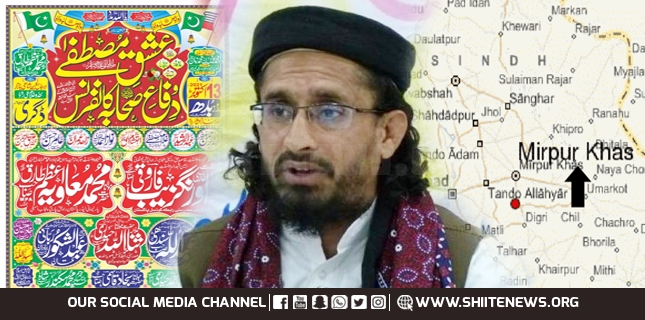 Shiite News: Notorious terrorist and Takfiri chief Aurangzeb Farooqi openly used derogatory language in Mirpurkhas against Holy Articles of the Shia religion including Niaz-e-Imam Hussain Alaih Salam and Alam-e-Abbas Alaih Salam as well as Allama Shahanshah Hussain Naqvi. Despite the complaint of Shia elders the State Authorities kept silent on provocative gathering at Tando Ghulam Ali by blocking the road in Tando Ghulam Ali which threw a wave of resentment among Shian-e-Haider-e-Karar.
According to details, Anti-Pakistan, Saudi Funded banned Sipah-e-Sahaba held a gathering under the title of Ishq-e-Mustafa and Difa-e-Sahaba in Taluka Degree without any permission.
The sources said that fourth scheduled, notorious terrorist and killer of thousands of innocent citizen Aurangzeb Farooqi with his partners reached in said gathering without caring about any hurdle and started uttering rubbish about the holy articles of Shia religion, personality openly.
The sources further said that despite the prior objection of the Shia community holding of Takfiri provocative gathering will result in a law and order situation which is a question mark on the performance of the Sindh Government, the Law Enforcement Agencies especially the Judiciary which is turning a blind eye on Takfiri terrorist activities in the Province and use it all machinery to stop Azadari of Imam Hussain (AS).