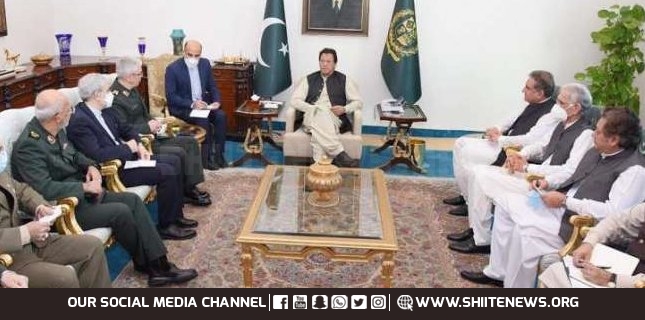 Shiite News: The Chief of General Staff (COGS) of the Iranian Armed Forces, Muhammad Baqiri is recently on a visit to Pakistan. On this occasion, he held special meetings with PM Imran Khan, COAS General Qamar Javed Bajwa, and other Civil and Military commands in Pakistan.
According to a statement, issued from the Prime Minister House said that Imran Khan personally received Iranian COGS Major General Muhammad Baqiri and welcomed the Iranian delegation. In this meeting, PM discussed Pak Iran relationships and talked about his meeting with Iranian President Ibrahim Raisi in Dushanbe during the meeting of the Shanghai Co-operation Organization. He also reiterated his wish to strengthen bilateral ties with Iran and to promote cooperation in trade, economic, and energy sectors between the two countries.
Regarding the Afghan situation, Prime Minister urged the international community to come up to protect Afghanistan from economic failure, and in this regard restoration of Afghanistan's Assets is an important need of the time. Representatives of both countries agreed to pay their role in this regard.