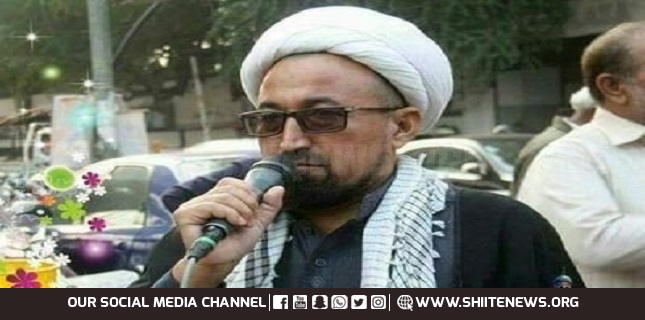 Shiite News: The Secretary-General of MWM Karachi, Allama Sadiq Jafferi said that the holy days of Rabi-ul-Awal will be observed with due respect and honor. He expressed such views during a press conference held at Wahadat House, Soldier Bazar, Karachi with Ahle Sunnah elders Allama Manzar-ul-Haq Thanvi, Maulana Abdullah Junagarhi, Naveed Hashimi, and others.
He added that like previous years MWM will also observe a "week of unity" this year from 9th to 17th Rabi-ul-Awal, while on 12th Rabi-ul-Awal on the occasion of Milad-e-Nabi PBUH, will hold reception camps to distribute Milk, Water, and Food Items among the participants of processions.
He further said that Shia and Sunni's communities are two strong wings of Islam, the love of Prophet Muhammad PBUH and the love of his grandson Imam Hussain (AS) demands to be pleased in their pleasure and to be mournful on their grieves. He said that the mindset which denies Eid Milad-un-Nabi also creates barriers in way of Azadari. Shia Sunni Unity is the only way to discourage Takfiri elements. Shia Sunni brotherhood has turned the table of Takfiriat while they are once again finding opportunities to uphold their heads but we will never allow being succeeded in their deplorable mission. On this occasion, MWM will arrange programs of unity and lifestyle of the Prophet Muhammad PBUH in various cities in which Ahle Sunnat leader will also be present. Meanwhile, Ahle Sunnat elders said that Shia, Sunni are united and both communities a far away from hatred and terrorism. The "week of unity" under the banner of MWM, will thwart all conspiracies of sectarian miscreants. On this occasion, Maulana Malik Abbas, Maulana Bashir Ansari, Maulana Ishaq Ameeni, Maulana Anwar Ali, Allama Mubashir Hassan, Nasir Al Hussaini, and other leaders were also present.