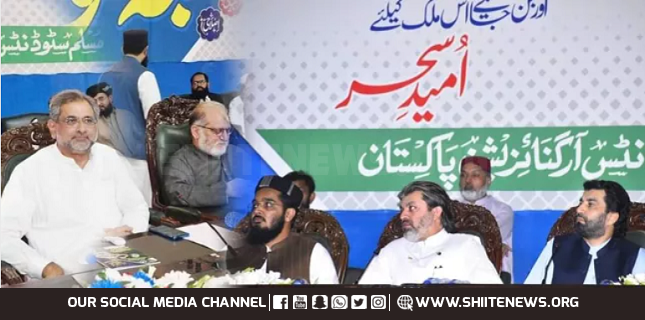 Shiite News: After establishing the Taliban government in Afghanistan it is widely felt that the state of Pakistan has started to support banned Wahabi Terrorists in the country. In this regard Annual Convention of the Muslim Student Organization which is the student wing of banned Sipah-e-Sahaba held in Islamabad. In said convention Ministers of the ruling PTI were also present along with terrorist MPA of PML-N Mauviya Azam Tariq to address the convention.
According to details, in MSF convention Minister Parliamentary Affairs Ali Muhammad Khan, Deputy Speaker of National Assembly Qasim Soori, PML-N leader and former Prime Minister Shahid Khakhan Abbasi, and notorious Wahabi journalist Oria Jan Maqbool were present. This convention is sufficient to understand that the endeavor to strengthen banned Sipah-e-Sahaba has been reportedly initiated in Pakistan.
The most surprising aspect of the said terrorist convention is coverage by the state broadcasters. PTV's action of broadcasting an event of an extremist student wing-like MSF is questionable. This student wing use to avail any opportunity to provoke Shia students at every forum and on such occasions, its workers use to label Shia as an infidel.
It is to be cleared that the State of Pakistan is once again repeating the same mistakes which it has made 20 ago at the time of the formation of the first Taliban government in Afghanistan.